LHS Girls Cross Country Makes State
Brock Kappelmann - October 24, 2016 6:14 am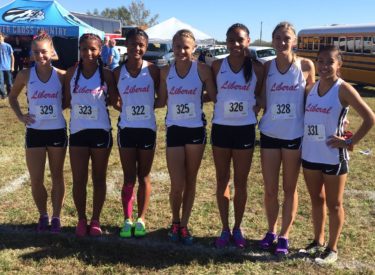 The Liberal Redskin cross country runners competed in their Regional championship Saturday at
Lake Afton, hosted by Bishop Carroll. The Redskins were joined by Arkansas City, Bishop Carroll,
Goddard, Goddard Eisenhower, Great Bend, Maize, and Valley Center. The top three teams from
Regionals qualify to the state meet along with 5 individuals who did not qualify with a team.
The boys team was faced with the tough task of trying to be a top three team while competing
against three teams ranked in the top ten in class 5A in Bishop Carroll, Maize, and Great Bend. The
Redskins just missed qualifying the team finishing in fourth place with 91 points. Once the top three
teams of Bishop Carroll, Maize, and Great Bend were taken out Liberal had three of the next five runners
who qualified for the state meet. Sophomores, Antonio Borunda, Xavier Perez, and Javier Carrillo all
qualified as individuals. Borunda's time of 17:15 was not only good enough to qualify, it also earned him
All-Regional team in placing tenth. Perez's time of 17:20, was a 34 second personal record, and placed
him 14th. Carrillo was the 16th runner to finish the race in 17:26.
The Lady Redskins knew they would have to run well as 4 of the top 8 teams in the state were all
placed in the same regional with only three spots available to qualify. The Redskins were led by two All-
Regional runners in senior Camryn Slatten and freshman Katie Horyna, both of which ran their fastest
times of the year. Slatten was the Regional runner up with a time of 19:38, while Horyna was right
behind her with a time of 19:42 in third place. Senior Saw Ahmara ran the course in 21:19 to finish in
16thplace. Yanelly Jurado's time of 21:35 earned her 19th. Juniors Alondea Alvarado and Kelsey Ramsey
were the next two runners for the Redskins with times of 21:49 and 22:30, to finish in 24th and 30th
place. Freshman Erika Valverde completed the course in 23:22 which was the 35th best time of the day. The
Redskins ended the day with 64 points to finish in third place. Bishop Carroll won the meet with 50
points and Valley Center was second with 59. The Liberal seniors are the first group to qualify all four
years for a Liberal girls team. The runners will run Saturday at Rim Rock farms outside of Lawrence, Kansas.
The 5A boys will run at 11:10 am, and the 5A girls will run at 12:55 pm.
Tyson McGuire