LHS Cross Country has Five Starters Back
Brock Kappelmann - August 31, 2021 2:41 pm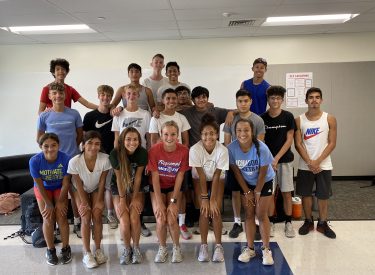 The Liberal boys and girls cross country teams both return five starters for their seven member varsity cross country teams.  Stan Kachel enters his third year  as head coach of the Redskin harriers.  Liberal has 12 girls and 15 boys out for cross country.
The Skins open the season at Meade on Thursday.  The boys varsity team currently consists of Sr. Aidan Bernhardt-Purdy, Jr. Daniel Amparan, Jr. David Villa, Jr. Elian Laguna, Jr. Bryan Ortega, So. MJ Foster, Fr. Alex Koerner, and Fr. Enrique Morales.
The girls varsity team currently includes Sr. Gabriella Ramirez, Jr. Hallie West, Jr. Ava Maxwell, So. Daniela Cerda, So. Hailey Contreras, Fr. Bently Fitzgerald, and Fr. Isabela Gutierrez.  West made state as a freshman two years ago and Cerda made state along with Halle Payton last year.
Liberal opens their season at Meade on Thursday.  They were featured during the Sportsguys on Tuesday morning.