LHS Boys Take Third at Scott City
Brock Kappelmann - January 16, 2022 1:50 pm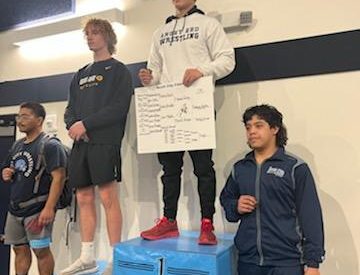 Varsity boys traveled up to Scott City to face some of the state's toughest 1-2-3a and 4a wrestlers. The tournament featured 10 state-ranked kids with Liberal bringing three. The tournament however still had several notable names missing as illness had taken some teams' numbers down, but the competition still would be tough and competitive for most of the liberal wrestlers.
Liberal would take 13 boys to Scott City. Liberal was without their 113 and 138-pound wrestlers and had moved some wrestlers around to try and compete as a team to try to win the tournament. Out of the 13 wrestlers, 5 would place, leading Liberal to a 3rd place finish behind Scott City and Goodland.
Irving Mendez, who recently became a ranked 6A wrestler in the 132 weight class, would tear through his first three opponents with pins all in the first round. His final match would be his most challenging as he would win a 9 to 6 decision over Lakin's Gosch. Trystian Juarez would bounce back from his last weekend loss in finals with a dominating day and pin all of his opponents in the first period. In fact, he only had one match go over a minute and that was his semi-finals match that marked at 1:11.
The other three placers would all face state-ranked opponents in either their finals match or a round-robin match. Tommy McClure who also joined the rankings this season would navigate a path back to the finals to set up a number 3 in 4A vs number 4 in 6A. Tommy would fall to Senior Zack Rohrbough of Scott City 7 to 2 in a hard-fought battle. Javon Allen would get to the finals and face Scott City's Kale Wheeler ranked 5th in 4A with a 24 and 1 record. Allen would struggle with a very experienced Wheeler, losing 14 to 3. The freshman phenom "Big Hud" Hudson Rice would compete in one of the round robing brackets and continued his impressive season. His only loss would come against Goodland's number 3 ranked Caleb Duell as he got caught at the end of the first period and pinned.
Overall there were a lot of improvements from the team. Some of the nonexperienced wrestlers worked hard to be easy pins for other teams. We had several wrestlers due to circumstances be asked to do more for the team. We had kids sacrifice for the team and most of our top wrestlers wrestle tough. That is what it will take for Liberal to be competitive for WAC and regional and state.
Liberal will Face against Garden City Thursday at home. " They are a traditional powerhouse program. We need to fill the gym and bring energy." Liberal will also travel to Atwood on Saturday for a tournament.