LHS Battery Commits to Butler
Brock Kappelmann - July 18, 2019 2:40 pm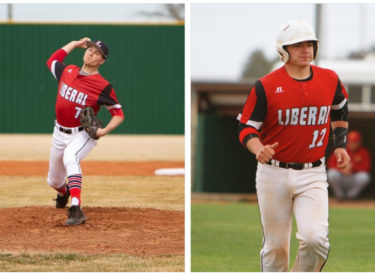 Liberal pitcher Braxton Hyde and catcher Pancho Terrazas will team up at Butler Community College in El Dorado.  Both committed to play at the NJCAA school.  Both have been first team all WAC players in each of the past two years.  Terrazas finished his senior year at LHS this spring and will attend Butler this fall.  Hyde will be a senior at Liberal High School in 2019-20 and play for the Redskins in the spring.
Terrazas his .245 with 13 RBI's, three doubles, and one triple for the 11-10 Redskins this spring.  He is well regarded as one of the top catchers defensively.  Hyde went 5-4 with a 1.86 ERA for the Redskins this spring.  Hyde struck out 59 and walked 13.
In 2018 Terrazas was the WAC player of the year as a junior and Hyde completed one of if not the best seasons on the mound in Redskin history. Terrazas hit .339 with six doubles, one triple, and 20 RBI's.   As a sophomore, Hyde was 8-1 with a save and a .62 ERA. He has 49 strikeouts and 14 walks.  Hyde was 1st team all WAC and the tandem helped lead the Redskins to a 16-6 season.
As a sophomore, Terrazas his .220 with a triple and nine RBI's.  As a freshman, Hyde went 2-0 with a save.  He had 20 strikeouts.  Hyde was second team all WAC as a freshman.
Butler went 39-19 this spring and share the Jayhawk West title with Hutchinson with a 22-10 record.