LHS Baseball Struggles in Regional Loss
Brock Kappelmann - May 18, 2017 7:23 am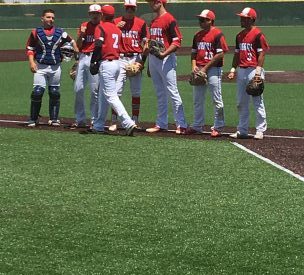 It was a bad time for a bad game.  Liberal's baseball teams struggled in a 9-1 loss to Goddard Eisenhower Wednesday in Maize.  The Redskins committed five errors and struck out looking four times.
The first Eisenhower Tiger reached on an error and would later score on a fly ball lost in the sun which turned to a triple.  A soft single through the infield scored the second run.  The Redskins made a run in the bottom of the third.  Cole Evans swing bunt down the third base line scored Elijah McCarter who led off the inning with a single.  On a read play with runners at the corners, LHS got a runner picked off between third and home to end the inning.  That seemed to take momentum away from the Redskins.  The Tigers scored another run in the fourth after a missed pop up in the wind.  Kaiden Bigham was solid the first four innings allowing just one earned run with four strikeouts.  Eisenhower broke it open in the sixth with five runs on three hits and two errors.  Two runs were earned.  Eisenhower tacked on a run in the seventh after two Redskin errors.
It was still a memorable season for LHS who graduated 10 seniors last year.  They finish 13-6 and shared a WAC title with Dodge City and Garden City at 5-3.