LHS Announces Valedictorian/Salutatorian
KSCB News - March 10, 2014 1:38 pm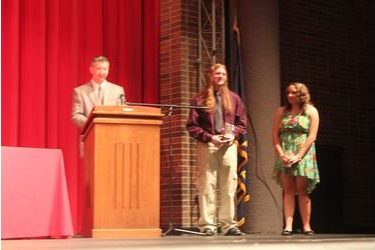 The 2014 Salutatorian is Alicia Collins, daughter of Bill and Cheryl Collins. She logged a total of 396.5 community service hours as a student at LHS. Alicia will be attending Tabor College in Hillsboro, KS where she plans to obtain her Bachelors' degree in Biology. Alicia has been selected to the Presidential Leadership Fellows Program at Tabor College and has signed to play tennis.
She plans to apply to Medical School to obtain her doctorate of Physical Therapy after which she intends to find employment and eventually own her own Physical Therapy practice.
The 2014 Valedictorian is Tristan McCallister, son of Clint McCallister and Brandi Boller. Tristan has participated in Track & Field for 2 years. He has been a member of "That" Liberal Band, and participated in Les Miserables in the Spring of 2013 with the LHS Drama department. He has been a member of NHS for three years. Tristan was named a KU Honors Scholar and a Junior Rotarian.
He has received a Scholastic Gold Key in Art, and has been named Outstanding Student in AP Studio Art, AP European History, Physics, Honors Earth & Space Science, Trigonometry, and AP English Language and Composition.
He is currently undecided on his college choice but plans to major in computer science or biological engineering.