Lespes Makes History at ITA Nationals
Brock Kappelmann - October 19, 2021 7:14 am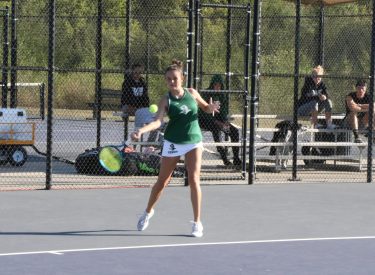 Kenny Hernandez
ROME, GA. – Seward County Community College's women's tennis student-athlete Justine Lespes lost in the finals of the women's singles draw to claim second place at the ITA National Tournament in Rome, Georgia. Lespes made program history with the first appearance for a Saint in the women's singles final match. Lespes will enter the spring season as the second-best singles player in the NJCAA.
The first match was on Thursday, October 14th as No. 3 Lespes took on unranked Jou Chen Chen from Abraham Baldwin Agricultural College. Lespes was able to take care of business with four breaks in the match and won in straight sets 6-2, 6-2.
On Friday Lespes went head to head with No. 2 Destinee Martins from Tyler Junior College. Martin won the singles draw at the NAtional tournament back in May and has only lost to her teammate this fall season. Lespes had lost her previous three head-to-head matchups against Martins and the last two have gone to a third set. In the first set, neither player had their service game broken.
Lespes won the first set in a tiebreaker 7-5 to win the first set 7-6. Martins responded with a 6-4 victory over Lespes in the second set. The third set started with MArtins in the lead 2-0 but Lespes quickly responded and looked to get back on serve. The third set went into another tiebreaker and Lespes once again prevailed with a 7-4 win to win the third set 7-6 and won the match 2-1. Lespes is the first women's singles student-athlete from Seward County Community College to make it to the final match. This match went on for three and half hours and Lespes still had one more match to go.
In the finals, Lespes met the No. 1 seed Lauren Anzalotta from Tyler Junior College. After the long match, the day before fatigue played a part in the final match. Lespes lost her serve early in the match and could not recover in the first set and lost 6-3 to Anzalotta, and the second set went by fast as Lespes fell 6-1.
With the second-place finish at the ITA Nationals Lespes will be ranked second in the NJCAA for women's singles and it will be the highest rating for women's singles player at Seward County. Lespes will be back in the spring to help the team push for a National title.