League High Three Lady Saints Named All Region
KSCB News - March 11, 2016 7:10 am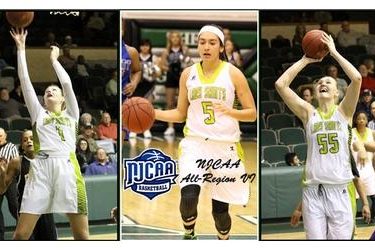 On the heels of a trip to the NJCAA Region VI Tournament Finals, a league best three Seward County Lady Saints have been named to the NJCAA All-Region VI teams as announced by Region Director Carl Heinrich on Thursday.
Leading the three Lady Saints on the list was sophomore Axelle Bernard who was one of five 1st Team All-Region VI selections. Bernard just missed averaging a double-double this season, putting up 10.9 points and 9.8 rebounds per game for the Lady Saints. Her 9.8 rebounds per game were second best in the region and also ranked in the top 35 nationally. Bernard also became a shot blocking machine late in the season for Seward, finishing the year ranked third in the region in blocks shots with 2.5 per game which was also good enough for 12th on the NJCAA charts. Bernard finishes her Seward County career with 625 rebounds which is third most in school history while her 325 rebounds in 2015-2016 were fifth most in program history.
Garnering 2nd Team All-Region VI honors was freshman center Joanna Grymek. Grymek scored a team best 13.4 points per game for the Lady Saints, also pulling down 6.6 rebounds and blocking 2.2 shots per game. Her 2.2 blocks per game ranked fourth in the region and placed her in the top 25 nationally. Her 73 blocked shots this season were ninth most in a season in school history. Grymek had seven 20 plus point games in 2015-2016 including season highs of 28 and 26 in games against Fort Carson and Independence.
Also finding her way onto the 2nd Team All-Region VI squad was sophomore sharpshooter Daniela Galindo. Galindo finished second on the team, scoring 12.1 points per game, while leading the club with 2.2 steals per contest. Galindo banged home 70 three pointers, which ranked sixth in the region in 2015-2016 despite missing significant time due to injury in the second half of the season. She finishes her Seward County career with 151 career three point marks, ranking her second in school history, while her 70 long balls this season tie her with Saints Hall of Famer Kim Ortega for seventh all-time.
Seward's three players on the list were more than any other team in the region. Five teams were tied for second, placing two players each on the teams.
Roy Allen