League High Seven Saints Named All Conference
KSCB News - May 12, 2015 4:34 pm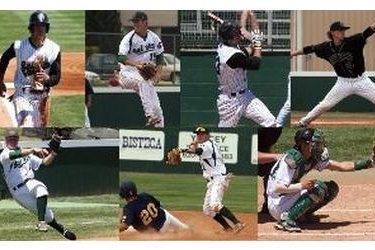 Following yet another Jayhawk West Conference Championship season, seven Seward County Saints have been named to the All-Jayhawk West Teams as released by the league Wednesday.
Seward had four players named 1st Team All-Jayhawk West, led by ace JB Olson. Olson was a workhorse for the Saints during his sophomore season, logging a team best 102 1/3 innings on the mound, striking out 79 and walking just 11 opposing hitters. Olson finished the year 9-4 overall with 9 complete games and posted a 2.99 on the season. Olson's 102 1/3 innings weren't just impressive on the Saints team stats, but they were 23 more than any other non-Seward pitcher threw in the entire conference and also ranked 2nd nationally in 2015.
Both members of the left side of the Saints infield were also named 1st Team, including shortstop Alex White. White, who many teammates consider to be Seward's MVP in their championship run, hit .336 in the leadoff spot for the Saints, scoring a team best 58 runs while driving home 33. White also walked 31 times on the season, a team high, finishing the season with Seward's second best on base percentage at .422. He led the Jayhawk West with 229 at bats during the 2015 season while his 77 hits were most of any infielder in the conference.
White's left side of the infield mate, Brandon Rix, was also a 1st Team selection at third base by the coaches. Despite missing 10 games with a mid-season injury, Rix still managed to put up impressive numbers, hitting .343 with 2 home runs and 41 RBI's as a sophomore. Rix's .343 average was 2nd best on the Saints roster this season while hit 41 RBI's in 49 games played were 3rd most. Rix really turned things on for Seward in Jayhawk West play, hitting .408 while driving in 29 runs in 29 league contests.
Playing a super utility role this season for the Saints, sophomore Dillon Drury was given the 1st Team nod at the designated hitter spot. Drury hit .339 with 9 home runs and 46 RBI's on the season for Seward, ranking in the top three on the team in each of those categories. Drury's 9 long balls ranked 5th in the Jayhawk West this season while his 46 RBI's were 4th most. In 29 Jayhawk West games this season, Drury hit .355 with 4 home runs and 29 driven home.
Sophomore catcher Brent Williams was the highest profile player snubbed from the 1st Team as he was chosen as a 2nd Team All-Jayhawk West performer. It is hard to know exactly what more Williams could have done this season as he hit .399 with 20 doubles, 11 home runs, and 56 RBI's. Williams just missed capturing the Jayhawk West triple crown in 2015, finishing 2nd in batting average, home runs, and RBI's. During his sophomore season, Williams had as many 3 hit games (9) as he had 0 hit games (9). Overall, Williams hit in 49 of his 58 games this season, including 24 of 25 to close out the 2015 campaign.
Seward southpaw Hayden Howard was also named a 2nd Team All-Jayhawk West selection. Howard was solid in his second season in the green and white this season, posting a 7-3 overall record with a team best 2.96 ERA. Howard threw 91 1/3 innings which ranked 2nd on the team and also 2nd in the Jayhawk West while striking out 80 opposing hitters which was 4th in the league. One of the Saints two lead horses, when Howard took the ball, he was going to get the Saints deep into the game, throwing 6 or more innings in each of his final 10 starts of the 2015 season.
Garnering 2nd Team All-Jayhawk West accolades in the outfield was sophomore centerfielder Brandon Urquizo. Urquizo's number don't tell the whole story of what he meant to the Saints this season, but with that said, playing in 53 games during the year, Urquizo hit .309 with 4 home runs and 23 RBI's while leading Seward with 7 stolen bases on the year. Urquizo finished 3rd on the team in a number of categories this season including at bats (207), hits (64), doubles (11), and home runs (4) while finishing 2nd on the club with 3 triples. Defensively, Urquizo's 3 outfield assists also led the team.
The Saints seven All-Conference members were a league high in 2015. Garden City's Francisco Alvarez was named the league MVP while Hutchinson's Max Simpson was the Pitcher of the Year in the West. Dodge City's Phil Stephenson took home Coach of the Year honors in a record breaking campaign for the Conqs while his centerfielder Johnny Balsamo was named the Freshman of the Year.
Roy Allen