League High Four Lady Saints Named All Conference
KSCB News - March 11, 2015 4:31 pm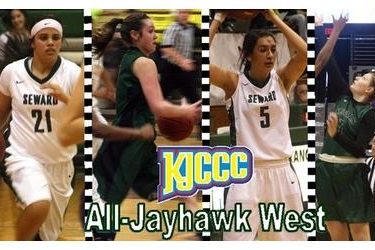 Following a 2nd place finish in the grueling Jayhawk West and an invite to the NJCAA National Tournament next week, a conference best four Seward County Lady Saints have been named to the All-Jayhawk West team as selected by the league's coaches.
After a furious finish to her regular season, the Lady Saints Kyndal Davis was named a 1st Team All-Jayhawk West selection by the coaches. Davis led the Lady Saints with 14 points per game this season and was second on the team with 7 rebounds per contest. Davis' sprint to the Jayhawk West finish line was incredible as she scored 16 points against Garden City, a career high 29 against Butler three nights later, before dropping 20 on the nation's top ranked defense in Hutchinson in the regular season finale. She didn't stop there, putting up 29 in the first round of the Region VI Tournament against Neosho before scoring 21 against Cowley in the quarterfinals and 17 against Coffeyville in the semifinal.
Brooklyn Artis and Axelle Bernard were both named 2nd Team All-Jayhawk West picks by the coaches. Artis averaged 13 points per game for Seward this season and led the team with just over 3 assists per night. The redshirt freshman from Amarillo, Texas has scored in double figures 21 times this season including in some big games with a career high 34 against Weatherford, 26 against Garden City, and 22 in a win over Midland. Bernard also picks up 2nd Team accolades after nearly averaging a double-double in 16 Jayhawk West starts. Bernard put up 9.6 points and 9.5 rebounds per game for the Lady Saints in conference play including seven double-doubles. She had 10 or more rebounds 10 times during conference play and had a school record 21 rebounds in Seward's Region VI Tournament 1st Round win over Neosho County.
Freshman sharpshooter Daniela Galindo was an Honorable Mention pick after leading the Lady Saints in scoring in conference play at 14.2 points per game. On the year Galindo has hit 79 three's for the Lady Saints which is 5th most in a single season in school history thus far. After a slow start to her rookie season, Galindo burst onto the scene around Thanksgiving, scoring in double figures in 19 of 25 games since Turkey Day. She drilled 7 threes in a game against Cloud County, one short of the school record, while tying a career high with 28 points in the contest.
Seward's four selections to the All-Conference teams was more than any other team in the conference. Hutchinson once again swept the league's top honors as John Ontjes was named Coach of the Year, Kalani Purcell the Player of the Year, and Cynthia Petke the Freshman of the Year.
The Lady Saints will begin their quest for the programs second National Championship on Monday when they head to Salina, Kansas to take on Lake Region State at 4:30 in the 1st Round of the NJCAA National Tournament.
Roy Allen