Late Runs Lift Galveston Past Seward
Brock Kappelmann - February 2, 2019 7:49 am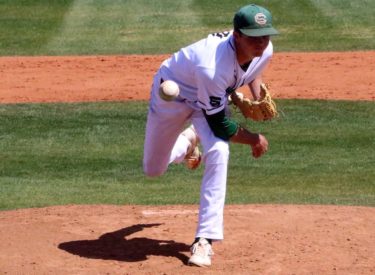 JUSTIN, Texas – The Seward County baseball team opened their 2019 season on Friday night, playing the first of a three-game series against the Galveston Whitecaps.  The Whitecaps used a late rally to beat the Saints 5-2.
Tanner King got the start on the mound, pitching five shutout innings.  King gave up just two hits, while striking out seven batters before being pulled.  Braeden Gould (0-1) relieved King of his duties, but lasted just 1.2 innings before giving up three runs off one hit and two walks.  Ryan Thomas pitched the final 2.1 innings, allowing two runs off five hits, including a home run.
Seward struggled at the plate to open the season, striking out ten times and coming away with just two hits, coming off the bats of KP Werner and Benny Ayala.  Ayala drove in two runs with a double in the fourth inning to push across the only runs of the day for the Saints. Two walks to start the inning put Ayala in position to drive home the runs and give Seward the early 2-0 lead.
After starting the sixth inning with a hit batter, two wild pitches and a walk put runners on the corners.  The third batter of the inning hit a sac fly to center field to cut the Seward lead to one.
The lead appeared to be safe through seven innings, but with two outs and one on, the Whitecaps began reaching base.  Two singles and a walk scored two runs to put Galveston on top 3-2 after seven innings.
In the top of the ninth, the Whitecaps used a couple insurance runs to seal their victory, coming off a solo home run and single down the third base line that followed a triple to make the score 5-2.
The Saints got two runners on base in the ninth, but with two outs, a ground ball to first ended the game, giving Galveston the win.
Seward will wrap up their series with Galveston tomorrow with a double-head in Justin beginning at 1 p.m.  The Saints will travel to Weatherford, Texas on Sunday to face the Coyotes at 1 p.m.