Last Year Motivates this Year's Beaver Dusters
KSCB News - August 19, 2013 7:17 am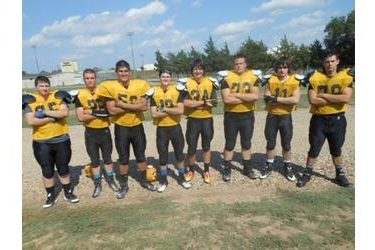 The Beaver Dusters were 1-9 last season and that isn't sitting well in and around the Beaver Dunes. This year's Dusters are using last season as motivation.
The Dusters return six starters on both sides of the ball for 19th year head coach Mike McVay. The Dusters have 28 out for football at the Class A school including five players over from Forgan (one player is injured). Eleven Dusters are sophomores. The Dusters pass defense must improve is they are to get back to their winning ways.
Some of the key Dusters include: Sr. OT/DT/LB Jorge Rivera, Sr. OT/DT Chris Cates, Sr. QB/DB Dylan Cain, Sr. C/DG Emery Tillman, Sr. TE/DE Gunnar Lansden, Sr. WB/DB Drake Zimmerman, and seniors Devin Hoover and Gavin Brady.
Beaver will be featured during the Monday morning Sportsguys.
Schedule
Sept. 6- at Stanton County
Sept. 13- Burlington, Colorado
Sept. 20- Hollis
Sept. 27- at Texhoma
Oct. 4- at OBA
Oct. 11- Mooreland (homecoming)
Oct. 17- at Hooker (Thursday)
Oct. 25- Okeene
Nov. 1- at Fairview
Nov. 8- Turpin (Senior Night)