Last Place Pratt Shocks Seward
Brock Kappelmann - April 29, 2021 7:39 pm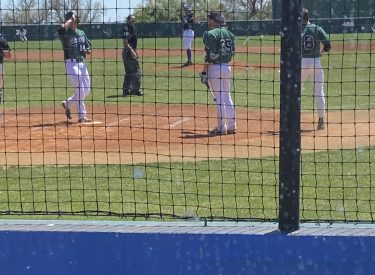 The Seward County Saints can still take second in the Jayhawk West to host the sub regional in two weeks.  But they no longer control their own destiny to do so.  That's after the Saints won game one 5-4 but lost game two 8-4 against the last place Pratt Beavers Thursday afternoon at Stanion Field n Pratt.
In game one, with temperatures in the 70's and a breeze blowing out to right, the Saints scored three in the first.  KP Werner doubled to begin the game. Kase Johnson singled and Werner scored on an error.  Wyatt Grant blasted  a homer to center for a two run shot.  That made it 3-0.  Pratt scored two in the first.  Grant homers to right for his 15th of the season to give the Saints a 4-2 lead.  The Beavers scored in the third to make it 4-3.  Peter Goldy singled to lead off the fourth before Richard Armijo doubled down the right field line.  Werner hit sac fly for the 5-3 lead.  Pratt scored one in the fifth.  Sam Berberich pitched his second complete game of the season.  He allowed four runs and two were earned. He had five strikeouts and three walks.  Seward out hit Pratt 9-7.  Seward had three errors and Pratt had one.
In game two, Seward scored three in the first. It was the third straight game and fourth time in five games they scored three in the first.  Braden Boisvert blasted a three run homer to left in the first.  Pratt scored one in the first. KP Werner doubled with two outs in the second.  Kase Johnson tripled to center for the 4-1 lead.  The Beavers plated one in the third and two in the fourth as SCCC walked two and beaned two.  Pratt had only one hit in the inning.  The score remained tied until Pratt scored four runs in the eighth.  The Saints were scoreless the final seven innings.  The lost despite out hitting Pratt 9-7. Dylan Day went  3 and 2/3 allowing four runs with five strikeouts, four walks, and three bean balls.  Cory Didier kept the Saints in the game with 4 and 1/3 with seven strikeouts and no walks.  He allowed three earned runs.
Seward is 21-21 overall and 16-10 in the Jayhawk West.  Cloud tied Seward at 16-10 with a sweep over Dodge City.  Cloud currently owns the tie breaker.  Pratt is 13-27 overall and 6-20 in the Jayhawk West.  The same two teams play Saturday at 1 at Brent Gould Field with Saints Dugout Show at 12:45 on 1270 and kscbnews.net.