Last Place Northwest Tech Shocks Saints in Goodland
Brock Kappelmann - January 31, 2019 7:23 am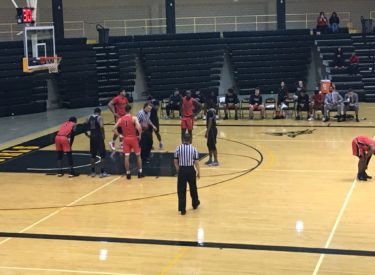 GOODLAND, Kan. – The No. 15 Seward County men's basketball team lost on a shot with 3.5 seconds left to the Northwest Tech Mavericks Wednesday night 80-78. Seward is now 17-5 overall and 10-3 in the Jayhawk Conference.
The Saints started the game slow as the Mavericks began with four threes in the first five minutes of the game to take an early five-point lead. Seward cut the lead to two points, but the threes continued to fall for Northwest Tech, keeping the Saints at a distance. After falling behind eight points, the Saints battled back to within two at the media break 26-24.
Seward came out of the break and took the lead with a Marco Morency put back. On the next possession Bethely drilled a three from the right wing to put Seward up four points. The Mavericks wouldn't go away, continuing their hot hand from behind the arc to tie the game at 37. A turnaround jumper just before halftime gave the Mavericks a 43-42 lead at halftime.
The teams traded blows coming out of the break with Isiah Small tying the game at 51 with a reverse layup. After the layup, the Mavericks scored five straight to take retake a five-point lead. Northwest Tech continued to increase their lead, cutting through the normally stout Seward defense with ease to take a double-digit lead at the media break.
Seward came out of the media timeout by cutting the deficit to one point during a 10-1 run, capped off with a Morency corner three. Moments later, Devin Bethely found Hegel Augustin on the right wing to tie the game at 69 with under six minutes to play. Two possessions later, Augustin got a floater to fall to give the Saints a 73-71 lead. With under a minute to play, two free throws by the Mavericks tied the game at 78 before forcing a miscue by the Saints offense, giving Northwest Tech the chance for the last shot. The Mavericks found a lob open at the basket, when the basket fell with 3.5 second left on the clock. A shot at the buzzer by Selmi missed its mark as the Mavericks won 80-78.
Three Saints scored in double-figures, led by Marco Morency's career-high 22 points. Hegel Augustin (10 pts) and Mohamed Selmi (16 pts) both reached double-figures.
Seward will travel to Hutchinson on Saturday (Feb. 2) for a first place battle in the Jayhawk West with the Blue Dragons. The game will tip at 7:30 p.m. and can be heard on 107.5 FM with Brock Kappelmann on the call.