Last Place Cloud Sinks Saints
KSCB News - February 6, 2016 11:31 pm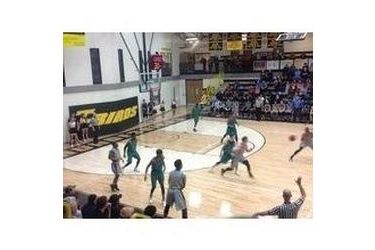 Cloud is no longer 1-13 in the Jayhawk. The last place Thunderbirds shocked Seward 76-74 Saturday night at Bryant Gymnasium in Concordia. It's Cloud's first home win in conference and first win since January 2.
The a Saints jumped out to a 32-21 lead only to see the Thunderbirds bolt into the halftime locker room on a 17-0 run to lead the shell shocked Saints 38-32. Cloud built a 16 point lead at 64-48. The saints rallied to trail 67-66 and led late 72-71. In a tie game in the closing seconds, Seward had the ball with a chance to either win in regulation or go to overtime tied at 74. But a Cloud steal and ensuing Seward foul allowed Cloud's Aamahoe Santos made two free throws with two seconds left. Seward's 35 foot three pointer at the buzzer was well short as the Seward bench felt a foul should have been called on the shot.
The T-Birds out rebounded Seward 42-28. Cloud made 14-29 from three point range. Niemeyer Stevenson had 26 in the loss. Seward falls to 17-7 and 7-6 in the Jayhawk. They host Hutchinson Wednesday night at 8 in the Green House on 107.5. First National Bank is the buyout sponsor.