Large Oil Battery Fire Near Guymon
KSCB News - December 30, 2014 10:18 pm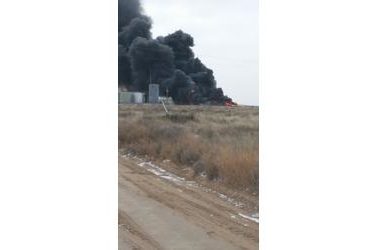 Guymon Firefighters remained busy Tuesday afternoon responding to a reported large oil battery fire southeast of Guymon.
At 1:10pm, Guymon Fire Department responded to the reported fire located 10 miles east then 6 miles south of Guymon. "The oil site belonging to MidCon Energy was fully engulfed in fire upon first arriving Fire units", said Assistant Fire Chief Grant Wadley. Heavy black smoke produced by the fire could be observed from miles away while the 20-30ft. flames could be visible ½ mile away.
The fire started while MidCon Energy workers were on site dealing with the cold equipment due to the extreme temperatures. Once the fire started, it suddenly caught the flammable products in a cooling tower on fire. Workers tried to extinguish the fire with extinguishers but the fire grew too large. The workers fled the area and notified the Guymon Fire Department immediately without any injuries.
"Several cooling towers inside the containment area were destroyed by fire", Wadley said. The fire was located in a remote area of land with no expectations of it spreading. Firefighters allowed the fire to burn itself out and remain contained. Firefighters monitored the dry area near the site which did not become involved. Once the fire burned itself out, Firefighters were able to move in closer and cool down hot metals that had been involved with the flames. The wind and cold temperatures played any important advantage for Firefighters during this fire, preventing exposure to nearby crude oil holding tanks which would have been devastating if becoming involved in the fire. MidCon Energy Officials will be investigating the cause of the fire. Early estimated damage cost of this fire is between $70,000 – $100,000.
Guymon Fire Department was assisted by Hardesty Fire Department, Texas County Sheriff Office, Texas County Emergency Management, OHP, and Officials from MidCon Energy.