Large Grass Fire West of Goodwell Friday
Joe Denoyer - January 18, 2021 9:36 am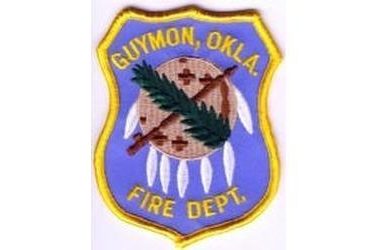 A large grass fire combined with extreme winds turned dangerous for Firefighters and travelers on Highway 54 Friday afternoon.
At 12:15pm Friday afternoon, Texas County 911 Center began to receive reports of a grass fire located 1 mile west of Goodwell on Road CC. As Fire units were responding to the scene, the fire traveled south in CRP grass lands fueled by +50mph winds. "Quickly the Union Pacific railroad line and Highway 54 going in both directions were closed by Law Enforcement due to flames and heavy smoke conditions crossing the highway between Goodwell and Texhoma", said Guymon Fire Chief Grant Wadley. Flames lengths were as long as the entire width of the highway at times. Firefighters called for more Fire units and resources including using a Fire Strike Team from the Oklahoma Forestry Service that was located in Woodward, Oklahoma at the time this fire started. "Firefighters, County Road maintainers, and local farmers with implements were finally able to stop the fire at Rd. FF which was 3 miles from where the fire started", Chief Wadley stated.
Compounding the fire, the National Weather Service had placed this entire area under a Dust Storm Warning due to extreme wind conditions with blowing dirt and dust. With this type of Storm Warning and the heavy fire conditions complete zero visibility occurred.
415 acres burned in this fire before bringing under control. Area Fire Departments responding were Goodwell, Guymon, Texhoma, Yarborough, Hough, Hooker, and Stratford, Texas. Over 18 Fire units and 40 Firefighters responded with additional equipment and tankers from Texas County District 2 and 3. Oklahoma Highway Patrol, Texas County Sheriff Office, District Attorney Task Force Officers, and Goodwell Police Department all worked on closing the highway and evacuating homes that were potentially in the path of the fire. No homes or structures were burned in this fire along with no injuries were reported.
Highway 54 and the Railroad were closed for 2 hours before conditions allowed travel again. Cause of the fire is still under investigation by authorities. Anyone with information in this fire is asked to contact the Texas County Sheriff Office at 580-338-4000.