Large Grass Fire Threatens City Limits of Guymon
Joe Denoyer - March 8, 2021 9:34 pm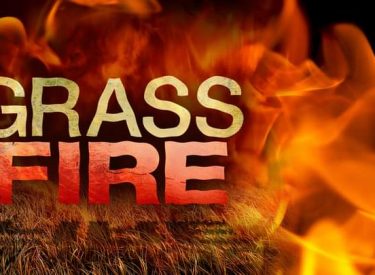 Thursday afternoon, a large grass fire north of Guymon eventually changed directions and threatened the northwest edge of Guymon City limits.  
At 3:15pm, Guymon Firefighters responded to a 911 call of a grass fire located 2 miles northwest of Guymon on the north side of the Beaver River.  At the time of the fire, winds were out of the south at 15mph.  "Within 25 minutes of Fire units arriving and working on extinguishing the fire, the winds changed and began coming out of the north at speeds near 25mph and gusts of over 40mph", said Guymon Fire Chief Grant Wadley.  
Guymon Firefighters called other Texas County Fire Departments to aid and assist in controlling this fire.  Heavy smoke filled the air then began to travel over Guymon.  Visibility was very limited in the north part of Guymon.  Firefighters along with District #2 and #3 maintainers were able to stop the fire on the south side of the Beaver River with just less than 1 mile before reaching the north City Limits of Guymon.  Guymon city Fire Engines and City of Guymon operations workers were strategically placed on NW. 24th street during the fire to protect if fire break lines failed due to the changing winds.  
"It is estimated that between 300-400 acres burned in this fire", Chief Wadley said.  One home was threatened but protected and saved by Firefighters.  No injuries were reported.   Cause of the fire at this time is ruled suspicious and is being investigated by the Texas County Sheriff Office and the Oklahoma Department of Agriculture.