Large Grass Fire on HWY 56 at Haskell Stevens County Line.UPDATE
KSCB News - April 3, 2011 3:00 pm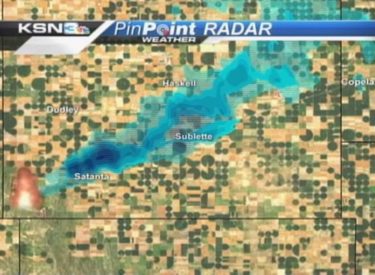 Update 10:50pm Seward County Fire Department calling the fire out, but will maintain fire watch for a few more hours. Some units heading south to Bryans Corner to assist Beaver Fire Department.
Update: 8:55pm Fire in Haskell County at the golf course is 90% contained. 2 structures were lost in this fire. Highway 56 at County Road FF is closed to westbound traffic due to heavy smoke in the area.
Update: 8:40. According to Seward County Fire Chief Mike Rice, the fire in Seward County has been contained and limited to an abandoned trailer house that they are monitoring. Heavy smoke is reported throughout the area.
Liberal fire units have been dispatched to 901 Millwood on the reports of a grass fire however the fire was out on firefighters arrival.
Update 8:30pm Fire units are now advising residents of Satanta that it is safe to return to their home. The fire danger has diminished and they will be allowed to return. Highway 56 at County Road FF is closed to westbound traffic due to continued fire flare-ups. We will advise when the roads are open again.
Due to the high winds, fire crews continue to battle fires west of Satanta along Highway 56 at County Road CC. Haskell County Emergency Management has confirmed that three homes were damaged in today's fire. Two trailer houses at Cattle Empire #3 were damaged, and a home was damaged near Miller Feed Lot.
Residents of Satanta District Hospital Long Term Care Unit will stay overnight at area facilities. Loved ones can contact Haskell County Emergency Management for the location of their family member.
Update: 7:25. Fire has now jumped Highway 190 and is now in Seward County. Reestablishing command inside Seward County.
Update: 7:15pm.
At approximately 6:30 PM fire crews advised that fires have flared back up in the previously contained areas north of Satanta, due to increased winds that are now out of the north. Fire crews continue working to get these fires under control. Evacuated residents have not been allowed back into Satanta due to the high fire danger.
Satanta District Hospital and Long Term Care residents have all been evacuated to surrounding facilities. If you have family in the Long Term Care Unit at Satanta Hospital please contact Haskell County Emergency Management Public Information Office for further information regarding the location of your family member.
We would also like to assure the resident of the City of Sublette that there are no plans to evacuate at this time. If the need arises residents will be notified via the emergency information system.
Update: 7:00pm. Reports of a fire has popped up at the golf course in Haskell County. This fire has now jumped the road on the south side of the golf course and is now burning the trailers and houses.
Another fire is reported south along the highway.
Update: 6:50pm. Fire fighter that was injured in the Balko/Turpin fire is reported to be Turpin volunteer firefighter and SCCC/ATS Instructor David Ratzlaff.
Update 6:22pm. Emergency crews are still working to contain the grass fire in the Satanta Area. At 5:30p.m. the fire is approximately 80% contained. There have not been any fire reports north of County Road 210 in Haskell County. We still know of only one home that has been lost in the fire, and no injuries have been reported. Residents are still not being allowed back into Satanta at this time. Haskell County Emergency Management will advise when it is safe to do so. U56 from Highway 83 at Sublette to Highway 190 on the east side of Satanta is closed, and Highway 190 south from U56 in Satanta to Highway 160 in Grant County is also closed.
Haskell County Emergency Management will continue to update as information becomes available.
Update: 5:45pm The fire that appeared to be at the Seward/ Stevens County line with the rapidly moving black smoke, looks like it is in Stevens County with fire fighters heading in that direction.
Update: 5:37pm. Preliminary reports show that firefighters may have the blaze contained. This is preliminary pending further investigation. Reports of fast moving black smoke has popped up in the NW part of Seward County near the Seward /Steven County line. Fire units from the Cimarron Station were dispatched to the area to investigate.
Burned firefighter update: A Turpin firefighter sustained injuries in a car fire earlier today.
Update: 5:20pm. Firefighters continue to fight the fire North of Liberal in Haskell/Stevens County. Approximately 12 – 15 miles have already burned with confirmed structures lost. Satanta residents that have been evacuated are taking refuge at Sublette High School.
Update: 4:50pm. Fire continues to burn North of Liberal, with several structures destroyed. Firefighters a trying to jockey for better position but the high winds are making it difficult as is only having a few water tankers available to supply water to the trucks.
Update 4:15pm. Highway N. 83 at mile marker 18 has been closed.
Update: 4:00pm. Grass fire is now in the area of Highway 190 as fire crews battle the blaze and try and keep it from jumping 190. Currently the fire is not in Seward County.
Earlier this afternoon Seward County and Liberal firefighters battled a structure fire in Garretsville, and KSCB News also learned of a Turpin firefighter that sustained burns while fighting a car fire between the Bryans Corner and Turpin. Crews are on scene fighting this grass fire as well.The firefighter was transported to Southwest Medical Center Code Red.
UPDATE: Currently in the process of evacuating the Satanta District Hospital! Visibility is down to zero in the area with fire crews from Liberal, Seward County, Guymon, Hooker,Turpin, Gray County, and other area community fire units joining in the fighting of this fire.
A large grass fire is burning out of control on at the Haskell/Stevens County Line on Highway 56. Several structures are reported to be on fire with the town of Satanta being evacuated. Farmers with tractors and discs and/or road graders are asked to assist in helping bring the blaze under control.