Lady Skins Run Away from Hays Late
Brock Kappelmann - January 8, 2017 10:12 am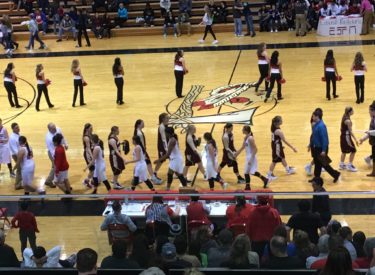 This was a tight, rugged, and physical game most of the way.  But after Ali Lucero swished two three pointers to end the third quarter, LHS was on their way to a WAC opening victory.  The Lady Redskins beat Hays for a fourth straight year in the Big House winning 59-44.
LHS made seven of 18 three pointers on their way to the win.  The Lady Skins built leads of 7-0 and 10-2 as Hays was playing for the first time on the road and for the first time since mid December.  LHS led 10-8 after one.  The Lady Indians and Lady Skins saw the lead see-saw back and forth in the second quarter and the score was 27-27 at the half.  Hays led 30-27 before LHS raced to the 42-37 lead after three.  LHS out scored Hays 17-7 in the fourth quarter.
The Lady Redskins were balanced.  Reyna Gonzalez scored a career high 11 and Lucero dropped in 11.  Jada Mickens scored 10.
Tenth ranked 5A Liberal is 6-1 and 1-0 in the WAC while #10 4A Hays is 4-2 and 0-1.  Liberal hosts Garden City on Tuesday at 6 with Redskin Pre-game at 5:45 on 1270 and kscbnews.net.