Lady Skins Lose by 66
KSCB News - February 20, 2013 7:24 am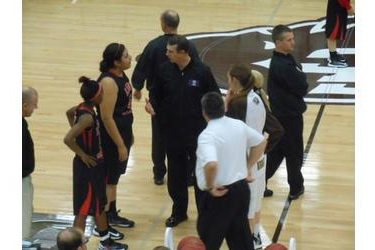 Liberal struggled just to get the ball past half court in the first half and #6 class 6A Garden City feasted on 27 LHS turnovers for an 88-22 win over the visiting Lady Skins in the Garden Tuesday night. Liberal loses their 21st straight in the WAC and ninth straight overall.
Garden City, who is enjoying their first ever WAC championship season finishes 8-0 in the WAC and 17-3 overall with sub state beginnin next week. Liberal falls to 4-15 overall and 0-7 in the WAC.
The Lady Buffs led 26-7 in the first quarter after a 19-0 run gave Garden a 23-5 lead. It was 44-11 at the half and 66-20 at the end of three before they used a running clock for the fourth quarter.
Marisol Regalado scored eight for LHS in the loss.
Liberal hosts Dodge City Friday night at 6 in the Big House on Talkradio 1270 and kscbnews.net. The Lady Skins will be featured during the Rowdy Crowd Thursday night at 5:30 at Billy's on Talkradio 1270 and kscbnews.net.