Lady Saints Win Thriller Over Butler
Brock Kappelmann - November 27, 2019 6:42 am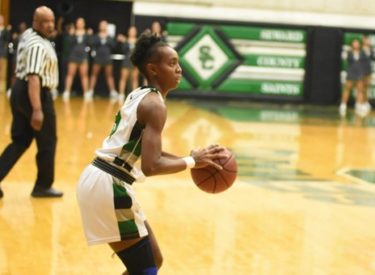 Kenny Hernandez
LIBERAL, Kan. – Aquila Mucubaquire hit a three-pointer with 5.9 seconds left in the game to give the No. 17 Lady Saints basketball team a 77-74 win over the Butler Grizzlies in the a thrilling opener to Jayhawk Conference play. The Lady Saints improved to 6-2 on the season.
The game was close throughout and came down to the wire. The teams were tied at 66 with 2:47 left in the game when the Lady Saints used a 5-0 run to open a 71-66 advantage.  Tianna Johnson hit a basket and Mucubaquire made a three-pointer to key the Seward run at the 2:15 mark.
The Lady Saints opened a 74-70 margin, but the Grizzlies scored the next four points to knot the game at 74 with 28 seconds left.
After a timeout, Seward passed the ball around the court before getting it to Mucubaquire, who pulled up at the three-point line and drained the game-winning trey with five seconds remaining. Butler had one final chance to the Seward defense held on for the win.
Tianna Johnson led the Lady Saints with 18 points and Vanda Cuamba chipped in with 11 points and eight rebounds and Leilani Augmon and Mucubaquire each added 10 points. Seward was 38 percent from the field on 26-of-67 shooting, including nine three-pointers.
The Lady Saints once again started slow, but the Grizzlies only had a four-point lead when Augmon notched a three to cut the deficit at 4-3 with 5:49 left in the first quarter. Seward opened a 12-9 margin, but Butler battled back and knotted the game at 14 after one.
The teams were nip and tuck through the second and third quarters with the Lady Saints leading at the half, 33-34, and, 50-49, after three quarters.
Seward bounced back from a tough Midland College WNIT tournament, playing three ranked teams, losing two of three
Camille Downs had 20 points and RaVon Nero scored 15 for the Grizzlies, who fell to 7-4 overall.
Seward travels to play at Cloud County on at 6 p.m. on Saturday.