Lady Saints Win Sixth Straight
KSCB News - February 23, 2016 6:53 am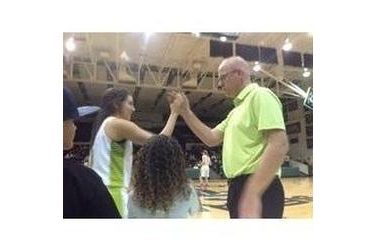 The Lady Saints had a feel good night on sophomore night in the Green House. Seward's backups helped the Lady Saints pound Colby 110-47 Monday night in the Green House. Their 110 points in a conference game was the most since scoring 112 against Colby. Seward wins their 20th straight game over the Lady Trojans.
The Lady Saints started their sophomores. Their starters barely played in the win with the Region 6 Tournament approaching Thursday. Samm Ashida scored a career high 21 points and made five three pointers. Shania Liggett scored a career high 14. Leslie Speer and Neidy Ocuane scored 13 a piece. Erin Richardson and Joanna Grymek scored 10 a piece.
Seward shot 54 percent from the field and held Colby to 25 percent shooting. Seward out rebounded Colby 63-28.
The Lady Saints win their sixth straight and are 22-7 and finish 14-5 in the Jayhawk. Colby is 5-25 and 1-18. Seward hosts Pratt Thursday at 6 on 107.5 and kscbnews.net. Community Bank is the buyout sponsor.