Lady Saints Win Jayhawk West in Overtime Thriller Over Hutch
Brock Kappelmann - February 25, 2019 6:40 am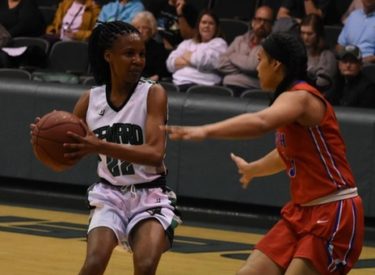 Phillip Lee
LIBERAL, Kan. – The second-ranked Seward County Community College women's basketball team needed overtime to knock off the Hutchinson Blue Dragons, 77-69, and capture its second straight Jayhawk West championship on Sunday.
The Lady Saints, who extended their winning streak to 22 games, improved to 20-1 in conference play and 28-2 overall. Seward has won 50 straight home games and 42 straight home games against Jayhawk opponents.
Seward and Hutchinson entered Sunday's season finale tied for the Jayhawk West at 19-1 and fittingly, the two teams were tied at 62 after regulation. Silvia Veloso took control of overtime for Seward, scoring nine of her 14 points in the extra period and leading the Lady Saints to an eight-point triumph.
Lexi Hernandez had 17 points and Carla Covane added 15 points and 17 rebounds for the Lady Saints, who earned a first-round bye in the Region VI tournament. Seward also received contributions from Aquila Mucubaquire, who had 12 points and Karolina Szydlowska, who chipped in eight points and nine rebounds.
Dejanae Roebuck scored 18 points and Makayla Vannett scored 14 for Hutchinson, which fell to 19-2 in conference play and 28-2 overall. Both losses have come at the hands of Seward.
Seward showed a lot of energy early and led by as many as eight in the first quarter and extended its lead to 15 in the second. The Blue Dragons hit a three-pointer at the buzzer and the Lady Saints held a 36-28 lead at the half. Seward could not shake Hutchinson which used a 16-11 fourth quarter to knot the game at 62 at the end of regulation.
Seward will play the winner of Dodge City-Cloud County in the quarterfinals of the Region VI tournament on Saturday at 1 p.m. at Hartman Arena.