Lady Saints Win at the Buzzer in Colby
Brock Kappelmann - February 13, 2020 6:50 am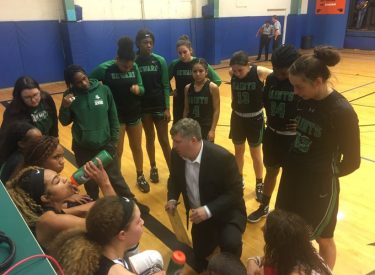 Even Lady Saint coach Austin Mefford found himself in disbelief.  Looking at a stat sheet during his postgame interview in the Colby Community Building, Mefford noted that the Lady Saints won a game shooting 28 percent, 1-9 from three point range, committing 20 turnovers, Colby out scored SCCC 24-10 in the paint, Seward had more fouls than field goals, and their leading scorer Karolina Szydlowska did not score.  But Seward still won 52-50 on Tianna Johnson's put back of her own miss at the buzzer.  Seward moves back into a tie for first at Dodge City shocked Hutchinson at Dodge City Wednesday night.
This game was much different than the January 22 game which Seward won 90-51 in Liberal.  Seward trailed Colby 14-9 after one and 26-25 at halftime.  Seward led 37-36 after three.  Seward took a couple of four point leads late at 48-44 and 50-46 but Colby quickly tied the game on both occasions. The Lady Saints had the ball with 21 seconds left and chose to take the final shot.  Tianna Johnson's two footer in the left lane rimmed out but her rebound and put back won the game.  Johnson had 16 points and 10 rebounds.
Seward wins their last ever game in the Colby Community Building.  Colby will move into a new facility next season.  Seward hasn't lost at Colby since 2005 and has won 15 straight at Colby.  Seward wins their 26th consecutive game against Colby.
The Lady Saints are 21-5 and 16-2 in the Jayhawk West.  Colby is 17-10 and 8-10.  Seward hosts Barton for Sophomore Recognition night Saturday night at 6 with Saints Shootaround at 5:45 on 107.5 and kscbnews.net. Sharp McQueen PA is the game sponsor.  Tickets are also available at Hutch's.