Lady Saints Volleyball Beats Beavers in 1st Round
Brock Kappelmann - November 6, 2019 5:54 am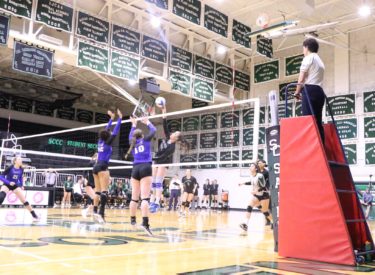 Phil Lee
LIBERAL, Kan. – The third-ranked Seward County Community College volleyball team started off slow, but still dispatched of Pratt Community College in straight sets, 25-20, 25-13, 25-9 in the first round of the Region VI playoffs on Tuesday at the Greenhouse.
The Lady Saints advance to the semifinals and will play the Hutchinson Blue Dragons in the semifinals at noon on Sunday at the Greenhouse.
Despite beating Pratt rather easily twice during the regular season, Seward found itself it in a dogfight early.
The start of the first set was tied four times with the Beavers giving the Lady Saints all they could handle. Pratt moved to within 15-14 before Seward went on a 5-1 run to open a 20-15 lead and finish up for the win.
Entering the second set, the Lady Saints stormed out to an 11-2 advantage and the Beavers could not recover. The margin ballooned to 20-10 and Seward cruised to the victory.
In the third set, the Lady Saints, once again, jumped out to a quick lead at 9-1 and never let up. The Lady Saints used a 12-2 run followed by an 8-2 spurt to seal the win and sweep the Beavers.
Seward swept Hutchinson during the regular season, winning on September 7 at Hutchinson, 25-18, 25-15, 25-20 and on October 9 at the Greenhouse, 23-25, 25-8, 25-14, 25-6.
The Blue Dragons punched their ticket to the semifinals with a win over the Butler Grizzlies, 3-1, on Tuesday.