Lady Saints Use 2nd Half Comeback to Beat No. 19 Iowa Western
Joe Denoyer - November 16, 2018 4:06 pm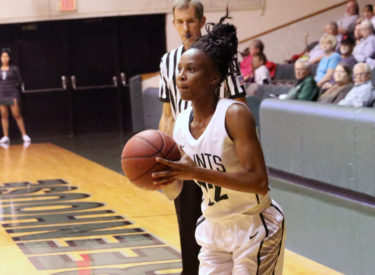 By Ian Applegate
MIDLAND, Texas – The No. 10 Seward County women's basketball team bounced back from their first loss of the season with a win over No. 19 Iowa Western at the Midland WNIT, 72-65.  The Lady Saints are now 5-1 overall, with two wins over ranked opponents.
Seward took an early 10-5 lead midway through the first quarter after a Kalen Green free throw, but the Reivers went on a 13-5 run over the next five minutes to take a three-point lead into the second quarter. The Lady Saints shot just 30.8 percent in the first quarter, and just 20 percent from behind the arc.
Iowa Western continued their shooting to begin the second quarter, going on a 10-0 run before Aquila Mucubaquire was able to end it with a pair of free throws, making it 28-17. Moments later, the Lady Saints cut the lead to seven with layups from Mucubaquire and Veloso. Each attempt made by Seward to cut into the lead was answered by the Reivers, until Karolina Szydlowska connected on a three-point just before the half to make it a five-point game, at 39-34.
Coming out of the break, the Reivers pushed the lead back to seven on their first possession. The Lady Saints slowly climbed back into the game until Lexi Hernandez hit a three with just under three minutes left in the quarter to give Seward their first lead since the first quarter at 50-48. Despite the comeback, the Reivers went on a 6-1 run to close the quarter and take a three-point lead into the final quarter.
A three pointer out of the gates by Mucubaquire tied the game again. The game remained tied until Hernandez hit another three to give them a lead, followed by a Carla Covane layup to put Seward up five points. The Lady Saints pushed their advantage to nine points with two minutes left with another Covane layup.  Seward held off any Reiver attempt to come back, winning the game 72-65.
Seward shot 38.2 percent (21-55) from the floor and 28.6 percent (6-21) from behind the arc. The Lady Saints were able to make up ground thanks to a 24 to 8 free throw advantage.  Seward connected on 82.8 percent (24-29) from the charity stripe.
Three Lady Saints finished in double-digits, led by Silvia Veloso's 19 points.  Lexi Hernandez (16 points) and Carla Covane (11 points) joined Veloso in double-digits. Seward forced the Reivers into 22 turnovers, including 12 steals, led by Veloso's four steals.
Seward will finish the Midland WNIT in the Consolation Championship game against the winner of Northeastern Oklahoma A&M and Arizona Western at 2:00 p.m. tomorrow.