Lady Saints Throttle Swedes
Brock Kappelmann - November 4, 2018 9:47 am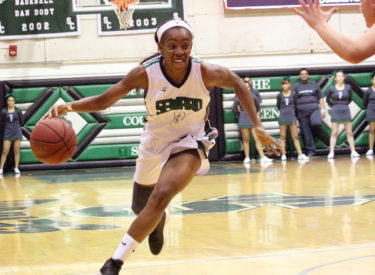 Ian Applegate
LIBERAL, Kan. – The 2018 Pepsi Classic ended with a bang for the 10th ranked Seward County women's basketball team, as they routed Bethany JV Swedes 95-36. Seward has now won 38 consecutive home games and sits at 2-0 on the season.
The first few minutes were a preview of what was in store as the Lady Saints scored the first eight points before the Swedes finally made it on the board four minutes into the game. The rest of the quarter was much tighter, but the initial gap kept the Lady Saints in a safe distance, ending the first half with a 20-11 advantage.
Seward used another four-minute stretch at the beginning of the second quarter to push their lead to nine as the Swedes struggled to figure out the Lady Saints defense. After a quick basket by Bethany, Seward went on another 8-0 run to push their lead to over 20 points. Seward pushed their advantage to nearly thirty points by the end of the half, as they led 44-15.
Bethany scored within a minute to start the third quarter, but the Lady Saints suffocated the Swedes for the next four minutes, as they increased their lead to 40 with an Aquila Mucubaquire three-pointer. By the end of the third quarter, Seward held a 48-point lead, with the score sitting at 73-25.
Diana Gomez came into the game in the fourth quarter, drilling two threes to account for her six points. Seward used a 22-11 fourth quarter advantage to extend their lead even further, before eventually ending the game by a score of 95-36.
The Lady Saints used a complete team effort to pull out the route, as every player scored at least two points. Three Lady Saints reached double-figures – Silvia Veloso (12 pts), Lexi Hernandez (10 pts) and Aquila Mucubaquire (10 pts). Vonda Cuamba came up two points shy of a double-double, as she finished with a game high 11 rebounds in the win.
Seward will have a week to rest before taking on No. 15 South Plains in the Pepsi Classic on Friday night at 6:00 p.m. in the Greenhouse. Fans are asked to wear black to the game as part Seward tries to Black Out the Greenhouse.