Lady Saints Tennis Off to a Solid Start at Nationals
Joe Denoyer - May 5, 2019 10:28 pm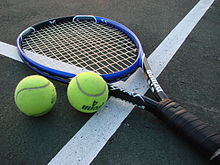 By Phil Lee
TYLER, Texas – The Seward County Community College women's tennis team is off to a strong start at Nationals, which began on Sunday and will run through Thursday.
The Lady Saints were able to advance five of their six players to the second round.
In singles, No. 1 Patricia Panta cruised past Snead State's Erika Roman of Snead State, 6-0, 6-0, No. 2 Maria Aveiga ran away with a victory over Mesa Community College's Sabrina Sanchez, 6-3, 6-1, No. 3 Alena Macharova battled past Lisa Guitton of North Central Texas College, 6-4, 6-4, and No. 4 Sofia Belluco blanked Pima Community College's Valeria Miranda, 6-0, 6-0. No. 6 Eva Liu advanced with a bye.

In doubles, No. 1 Panta and Aveiga defeated Morgan Bishop and Olivia Hayes of Central Alabama, 6-1 6-2, and No. 2 Belluco and Macharova moved on with a bye.

Alisha Handrugan is injured and defaulted at No. 4 singles and at No. 3 doubles with Liu.

Seward has 10 points in the race for the team title.

In their respective singles division, Panta is a three seed, Aveiga is the fifth seed, and Macharova, Belluco and Liu are all six seeds.

In doubles, Panta and Aveiga are the fifth seed and Macharova and Belluco are the fourth seed.