Lady Saints Tennis Continues to Win in Midlothian
Brock Kappelmann - March 3, 2018 7:06 am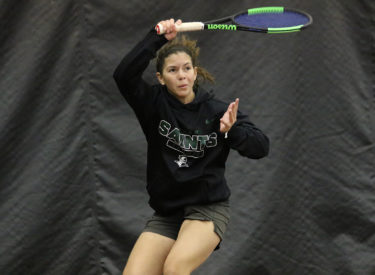 By Nacole Miller, Seward County Sports Information
MIDLOTHIAN, TX – No. 3 Seward Lady Saints continue to win in Texas this weekend after defeating North Central Texas College this afternoon 8-1. The Lady Saints are now 5-1 on the season with one more match to play to wrap up the weekend in Texas.
In doubles play, the ladies swept the Lions. Finishing first was No.1 team Patricia Panta and Steffany Bermudez winning 8-1 over Brenda Aguilar and Melissa Ariza. No. 2 was Maria Ariega and Alena Macharova who battled with Carolina Fabbri and Nathalie Weatherington but finally won 8-6. Finally finishing and winning 9-8 was No.3 team Yursa Hegy and Martina Borges.
In singles, the Lady Saints took all but one match against the Lions. The first three to finish were No.1 Panta who made quick work of her opponent Garanova 6-1, 6-0. Ariega took down Aguilar in the No,2 spot 6-1, 6-1 and Hegy defeated Kheterpal 6-1, 6-0 in the No.6 spot to clench the match for the Lady Saints.
To finish off the match, No.4 Bermudez won 6-4, 3-6, 10-3 against Fabbri, and Macharora pulled out a win at No.3 against Ariza 6-2, 7-5. Final to finish was No. 5 Borges who took a close loss to Weatherington 6-3, 3-6, 10-5.
Seward will take on Tyler Junior College at 9:00 a.m. in Midlothian, Texas tomorrow.
[cid:[email protected]]
Ian Applegate