Lady Saints Sweep Otero to Advance to Final Four
Joe Denoyer - November 21, 2019 8:59 pm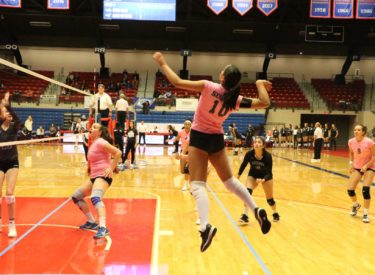 Hutchinson, KS – Djuly Schmorantz and Yanlis Feliz and 15 and 11 kills respectively to lead Seward County to a 3-0 sweep over Otero JC to advance to the NJCAA Volleyball Final 4. The Lady Saints will play Miami-Dade College at 6:30 pm on Friday night.
In Set 1 the Saints took a quick lead and never looked back. While it remained close early, Ariana Arciniega notched a couple of her 8 kills to give Seward a bit of breathing room at 15-8. Out of a timeout by Otero, Mesalina Severino had two big blocks, eventually pushing the lead to 22-15. The Lady Saints closed out the set 25-17, never trailing.
Set 2 was the most entertaining set, featuring 8 ties and 4 lead changes. After the game got tied up at 12, Arciniega, Schmorantz, and Severino each added a kill to open up a 16-12 lead and an Otero timeout. Out of the timeout, the teams split points until KJCCC Player of the Year, Yanlis Feliz took over with multiple kills and a block, with Seward winning 25-17 again.
The final set was a testing point for the Lady Saints after dropping the 3rd set in the opening round. They responded well, leading early 8-6. Sensing the momentum changing, Otero called an early timeout, but to no avail, as the Saints came out of the timeout to push the lead to 16-9. Otero not wanting to see their season end quite yet, put up a battle, closing to 21-16 and forcing a timeout from Coach Trifonov. The Lady Saints were ready though and closed out the quarterfinal match with a 4-0 run, winning 25-16.
The Saints will square off against #2 Miami-Dade, a rematch from earlier in the season in Las Vegas, NV, which saw the Lady Saints win 3-1 over the Sharks.