Lady Saints Survive Scare
KSCB News - November 8, 2010 12:00 am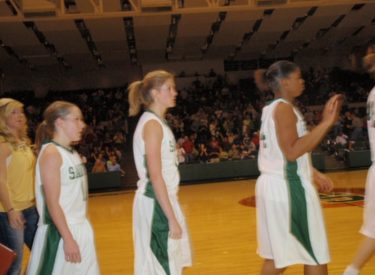 The Seward Lady Saints struggled to a 60-57 win over 0-3 Ranger College Saturday night in the Green House. Seward hit less than 30 percent of their shots and were 4-21 from three point range. Head coach Toby Wynn says his young team didn't follow the game plan. "We just didn't come out in the first half and do the things we said we needed to do to win the game. We needed to get the ball inside and attack the basket. We settled for three point shots."
What was expected to be a strength of the team hasn't surfaced yet. The Lady Saints are 7-42 from three point range in two games.
The Lady Saints won because they made more plays down the stretch including Ashlyn Knoll's mid range jumper to give Seward a 58-57 with about a minute to go. Knoll scored 20 points and grabbed seven rebounds. Kelsey Wilson had 14 points and six rebounds and made a pivotal three pointer to make it 57-55 Ranger. Seward got to the foul line more often in the second half going 11-20 while the Lady Rangers were 3-4. Seward trailed 53-47 and 57-52 and finished the game on runs of 13-4 and 8-0 to win.
The 2-0 ninth ranked Lady Saints play at Hutchinson Friday against Moberly at 1:30 and Saturday against the Bethany JV at 1:30.