Lady Saints Survive Scare at Dodge City
Brock Kappelmann - January 18, 2020 9:58 pm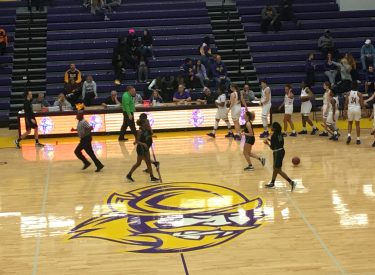 Seward, which improved to 15-3 overall and remained atop the Jayhawk West at 10-0, won its 30th straight regular-season conference game.
The Lady Saints were sluggish throughout the first and second quarters, but managed to forge a 25-25 tie with the Conquistadors at the half.
It looked as if Seward found some energy to start the third with a strong defensive effort and held a 28-27 advantage with 6:59 left remaining, but Dodge City went on a 16-6 run to open a 43-36 margin. Seward closed the gap when Destiny Alston drained a triple and got the Lady Saints to within four points, 43-39, after three quarters.
The teams battled back and forth with Dodge City continuing to hold a 49-45 lead with just under seven minutes to go in the fourth. Tianna Johnson netted four of the first six Seward points of the quarter before Leilani Augmon scored four straight points and Vanda Cuamba hit a basket to cap a 6-0 run to give the Lady Saints the lead at 51-49 with 5:07 remaining. The Conquistadors tied it at 51, but Seward used another 6-0 spurt to open some breathing room and survive for the win.
Johnson had 17 points, Aquila Mucubaquire and Augmon each 11 points to lead the Lady Saints, who shot 41.7 percent from the field (25-of-60), including a dismal 15 percent from three-point range (3-of-20). Cuamba grabbed 13 rebounds and Karolina Szydlowskachipped in with eight points and 12 rebounds for Seward, which continued to dominate on the boards, holding a 49-35 advantage.
Faith Cattouse scored 23 points and Sydney Thurwalker added 10 points to lead the Conquistadors, who fell to 9-10 overall and 4-6 in the Jayhawk West.
Seward hosts Colby Community College at 6 p.m. on Wednesday at the Green House. The game airs on B107.5 and kscbnews.net.  Equity Bank is the game sponsor.