Lady Saints Stymie Salt Lake
Brock Kappelmann - November 22, 2019 5:28 pm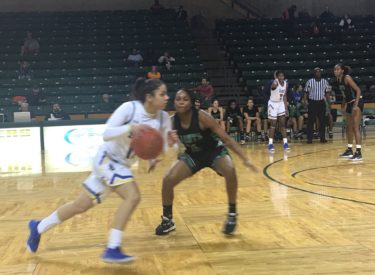 The Seward Lady Saints are 1-1 at the WNIT.  After a blowout loss at the hands of Midland Thursday night, #5 Seward recovered to beat #19 Salt Lake 59-55 Friday afternoon at the Chaparral Center in Midland.
The Lady Saints saw their opponent burst out of the gates for a second straight game.  The Lady Bruins built a 14-2 lead and led 18-10 after one.  SLCC led 21-12 but saw Seward chip into that lead late in the first half.  An Aquila Mucubaquire three pointer tied the game at 26.  Alanis Hill's double clutching left handed lay up gave the Lady Saints the 28-26 lead into the halftime lockeroom.  Seward built a 40-34 lead and led 43-40 after three.  Salt Lake took the lead back early in the fourth quarter at 47-43 and led 55-51 with 1:45 to play.  Seward ties the game at 55 with 1:02 to play.  Salt Lake did not score in the final 1:45 and Vanda Cuamba and Hill sank clutch free throws down the stretch.
The Lady Saints won despite 27.5 percent shooting.  SCCC forced 19 turnovers and out rebounded Salt Lake by one.  Mucubaquire scored 20 in the win.  Tianna Johnson had 10.
Seward knocked off a Salt Lake program who has been to six straight NJCAA tournaments and defeated SCCC in Midland last year.
Seward is 5-1 and SLCC is 2-4.  The Lady Saints play #24 Odessa Saturday at 2 in the Chaparral Center in Midland.  The game airs on 107.5 and kscbnews.net.