Lady Saints Stifle Colby for 6th Straight Quarterfinal Win
Brock Kappelmann - March 1, 2020 10:10 am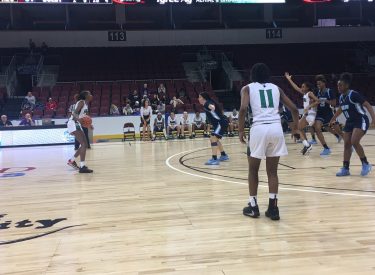 It must have seemed like there were six or seven Lady Saints on the floor at one time.  The #18 Seward Lady Saints played inspired defense in shutting down the Colby  Lady Trojans 63-46 Saturday night at United Wireless Arena in Dodge City.  SCCC held Colby to 23 percent shooting and 0-9 from three point range while harassing the Lady Trojans in 23 turnovers.
Both teams started slowly on offense in the third meeting of the season between the two teams.  The Lady Saints led 9-6 after one quarter.  Seward built second quarter leads of 19-8, 24-9, and 28-17.  Seward led 28-19 at halftime despite allowing 14 offensive rebounds.  Seward built their second half lead to 20 at 43-23.  SCCC led 49-33 after three.
Karolina Szydlowska had 16 points and seven rebounds.  Leilani Augmon had 14 points.  Alanis Hill dropped in 11.  Both teams committed 23 turnovers.  Seward led points off turnovers 27-15.  Seward was able to get out in transition and score out pacing Colby in fast break points 15-2.
Seward is 25-6 overall and Colby finishes 19-13.  Colby's win at Independence on Wednesday was their first since 2006.  Seward wins their sixth consecutive quarterfinal game and will play in the Region 6 semifinals Monday at 3 against Butler.  The game will air on 107.5 and kscbnews.net.  Hutchinson and Barton play at 1.