Lady Saints Stifle Cloud
Brock Kappelmann - February 2, 2023 7:05 am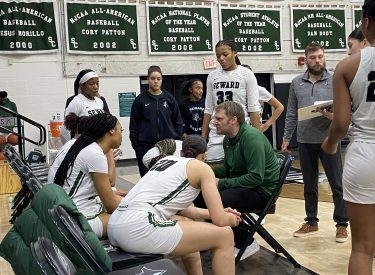 The Seward Lady Saints won every quarter in a convincing 77-49 win over the Cloud Lady Thunderbirds Wednesday night in the Green House.  Seward harassed Cloud into 28 turnovers and 26 percent shooting.  But perhaps most impressive was Seward out rebounding the KJCCC's top rebounding team 54-45.
Seward led 14-5 and led 14-7 after one quarter.  SCCC led 27-11 and 35-17  in the second quarter before taking a 37-21 lead into the locker room at halftime.  Seward's lead ballooned to 20 at 57-37 and led 59-37 after three.  Seward wins by 28 after dropping a 59-54 game at Cloud on November 30.
The Lady Saints shot 34 percent and made 11-29 from three for 38 percent shooting.  Seward went 16-19 from the foul line.  Cloud was 2-13 from three and 11-19 from the foul line.
Halima Salat led the Lady Saints with 20 points and five rebounds and made 4-8 from three.  D'Arrah Allen returned from injury and scored 13 points with five rebounds.  De'Shawnti Thomas had 10 points and 11 rebounds and Tiana Winn had 10 points.  Aliann Colon hit three 3's and scored nine.
Seward is 12-11 overall and 10-7 in the Jayhawk.  Cloud is 13-9 overall and 8-8 in the Jayhawk.  Seward hosts Independence Saturday at 2pm with Saints Shoot-around at 1:45 on 107.5.  Liberal Kenworth is the buyout sponsor.