Lady Saints Stick at #7 in NJCAA Poll
Joe Denoyer - January 31, 2017 4:15 pm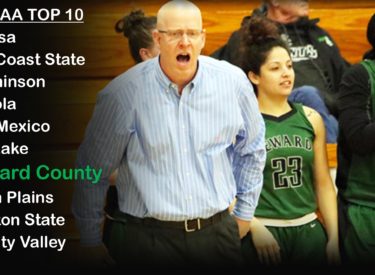 The Seward County Lady Saints stood pat in the NJCAA Top 25 this week, sticking at #7 for the second straight week.
The Lady Saints improved to 20-1 on the year with a pair of tough road wins last week at Cloud County and Barton. Despite having one of the more impressive resumes in the NJCAA Division I ranks this season, including wins over #3 Hutchinson, #9 Shelton State, Cowley who continues to receive votes in the poll, and Butler who was ranked when Seward defeated them in their first go round this season, Seward remains the lowest ranked one loss team in the top 10.
Odessa continues to lead the way at #1 with their 18-0 record while 22-1 Gulf Coast stays at #2 this week. Hutchinson jumps up a spot to #3 with an identical 20-1 record to the Lady Saints while Chipola's second loss of the season drops them just one spot to #4 and four loss New Mexico remains in the top five at #5. Salt Lake at 20-2 checks in at #6 with Seward following at #7, and South Plains remaining at #8. Shelton State was the biggest shaker this week as they jump back into the top 10 at #9 while Trinity Valley hangs on at #10 despite an impending two game forfeiture looms on the Cardinals.
Seward returns to the court on Wednesday at home in the Greenhouse where they will host Pratt on Hispanic Heritage Night followed by a Saturday night home date with Cowley set for a 6:00 tip.
January 31 NJCAA Top 25 Rankings<http://njcaa.org/sports/wbkb/2016-17/div1/polls>
Roy Allen