Lady Saints Sixth After Day Two of NJCAA Nationals
Joe Denoyer - May 8, 2018 11:31 am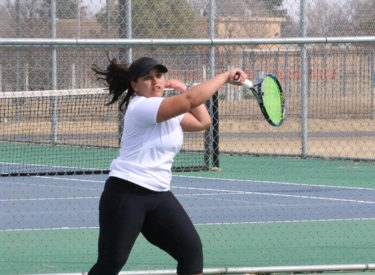 The Seward County women's tennis team moved up in the standings at the NJCAA National Tournament on Monday, going a combined 8-2 on the day.  Five individuals advanced to the Quarterfinals while two of the doubles teams are in the eight teams.
Patricia Panta kept rolling in the No. 1 Singles Draw, winning all 12 games against Julia McCarty of Meridian 6-0, 6-0.  She will play Valentina Gonzalez of Seminole State in the quarterfinals.
After winning a tight match on Sunday, Maria Aveiga came through in another tight win on Monday, winning 7-5, 6-2 over Ashley Coots of Central Alabama.  She is set to play Kyra Akinnibi of ASA Miami in the quarterfinals on Tuesday.
Alena Macharova had a bye in the No. 3 Singles draw for the first round, but came out in the second round to take down Tierney Holmes of Mississippi Gulf Coast 6-0, 6-1.  She will play the No. 1 seeded Kalani Soli of Tyler in the quarterfinals.
Steffany Bermudez also had a bye in the opening round but got back to business in the No. 4 Singles draw with a 6-1, 6-1 win over Angelica Garcia of Cowley to advance to the quarterfinals, where she will play Sarah Wardenburg of ASA Miami.
In the No. 5 Singles draw, Martina Borges fell to Hillsborough's Shaylee Syme after a first round bye 6-3, 6-1. Borges will play Jenna Lyons in the consolation bracket quarterfinals.
After a first round bye in the No. 6 Singles draw, Yusra Hegy dominated Jayme Shafer of Pima to the tune of 6-3, 6-0.  She will face Emily Wilson of Wallace State in the quarterfinals.
Bermudez and Panta started where they left off on Sunday winning their Round of 16 No. 1 Doubles draw 6-3, 6-2 over Cowley's Loura Rincon and Kristela Vidnere.  They will play Ceire Mulllins and Shaylee Syme of Hillsborough in the quarterfinals.
Aveiga and Macharova couldn't find their groove in the No. 2 Doubles draw, losing to Mary Bishop and Catina Gamo of Central Alabama 6-3, 6-2. The tandem bounced back in the consolation bracket, defeating Seminole State's Taylor Busby and Katheryne Valencia 8-3.
After picking up an easy win in Sunday's matchup, Borges and Hegy scored another victory for the Lady Saints in the No. 6 Doubles spot, taking a 6-2, 6-1 win over Laredo's Monika Cantu and Priscilla Morales. The duo will play ABAC's Mathilde Lirzin and Cyrielle Peyroche in the quarterfinals.
After two days the Lady Saints sit in 6th place in the overall standings with 21.5 points.  ASA Miami, Hillsborough and Tyler are tied for first with 27 points.