Lady Saints Shoot Down Cloud
KSCB News - January 30, 2014 7:16 am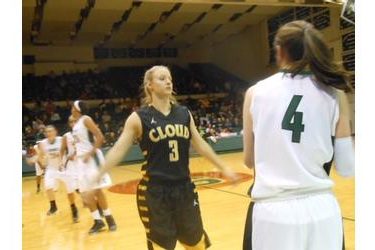 Seward out-rebounded Cloud 41-27 and shot 54 percent in an 80-66 win over Cloud in the Green House Wednesday night. The #9 Lady Saints won despite an uncharacteristic 25 turnovers. Cloud also turned the ball over 24 times. The Lady Saints were 5-11 from three point range and 11-15 at the free throw line. Seward led Cloud 39-35 at halftime and outscored Cloud 41-31 in the second half.
Fabiana Monte scored 21 points on 7-8 shooting. Alana Simon scored 19 while Brianna Scott had 11 and Kyndal Davis had 10.
Seward matches last year's win total and is 20-2 and 5-1 in the Jayhawk West while Cloud is 12-9 and loses their third straight to fall to 3-3. Cloud's top two leading scorers Jordyn Alexander and Courtney Fisher left the game with injuries.
Seward plays at Pratt Saturday night at 6 with Saints Shootaround at 5:45 on B107.5 and kscbnews.net.
Coffeyville def Labette 60-56*
#3 Hutchinson def Barton 78-52*
#21 Cowley def Neosho County 79-62*
Pratt def Colby 81-68*
Garden City def Dodge City 83-60*
#8 Butler def Independence 96-65*