Lady Saints Shoot Blanks in Concordia
KSCB News - February 6, 2016 10:55 pm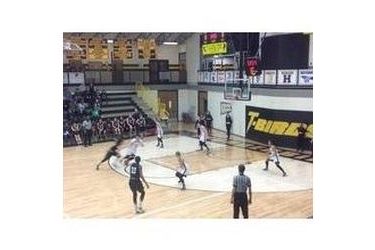 It was almost their worst offensive night ever. A late Samm Ashida three prevented Seward from scoring less than in a regular season win at Hutch in 2007 and 2000 Region 6 title loss to Barton. They scored 37 on both occasions. Saturday night in Bryant Gymnasium in Concordia, the Lady Saints lost 53-38 at Cloud.
Cloud led 25-17 at the half and 34-30 after three. The Lady T-Birds outscored the Lady Saints 19-8 in the fourth. Seward was 15-68 from the field for 22 percent. SC was 4-13 at the free throw line and 4-16 from three point range. Seward gave a good effort on defense holding Cloud to 29 percent shooting and 4-28 from three point range. The Lady a Saints had 23 turnovers and Cloud had 21. Cloud's biggest lead on the night was 53-35. Clitsn de Sousa had 17 points while Axelle Bernard had 17 rebounds.
Seward falls to 16-7 overall and 8-5 in the Jayhawk. Cloud is 17-9 and 9-6. The Lady Saints host Hutchinson Wednesday at 6 on 107.5 and kscbnews.net. First National Bank is the buyout sponsor.