Lady Saints Set Up Showdown with 21st Straight Win
Brock Kappelmann - February 21, 2019 7:10 am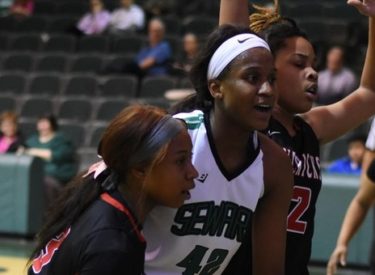 LIBERAL, Kan. – Every Lady Saint scored at least two points as the Seward County Community College women's basketball team routed the Northwest Tech Mavericks, 108-63, to extend its winning streak to 21 games.
The Lady Saints improved to 19-1 in conference play and 27-2 overall. Earlier in the day, Seward moved up to four places in the National Junior College Athletic Association poll to the number two position. The victory sets up a winner-take-all showdown for the Jayhawk West title against the Hutchinson Blue Dragons Saturday at home.
Every Seward starter hit double figures in scoring. Carla Covane had 20 points, Aquila Mucubaquire added 15 points, Karolina Szydlowska and Silvia Veloso netted 13 points each and Lexi Hernandez chipped in with 10 points for Seward, which hit 48.8 percent from the field and scored a season-high 108 points. Kalen Green also added a double-digit effort in scoring with 15 points off the bench.
Northwest Tech kept it close early, but the feeling was that it was just a matter of time before Lady Saints would pull away. After leading only 23-20 after the first quarter, Seward opened a 10-point advantage at the half. The second half was all Lady Saints, outscoring the Mavericks, 57-22, in the second half. Northwest Tech was held to just nine points in the final quarter.
N'Dea Flye had 25 points and Kiara Tharpe scored 18 for Northwest Tech, which fell to 2-18 in conference play and 2-26 overall.
Seward hosts Hutchinson for Sophomore Night at 6 p.m. on Saturday at the Greenhouse.