Lady Saints Score 95 in Last Three Quarters at Neosho
Brock Kappelmann - January 11, 2020 10:44 pm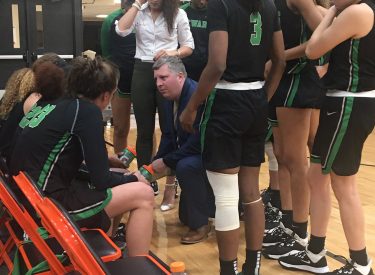 Kenny Hernandez
CHANUTE, Kan. – No. 13 Lady Saints take care of business on the road to defeat Neosho County Community College 107-74.  The Saints improved to 12-3 overall and 7-0 in Conference play. Seward County trailed after the first quarter 20-12, but quickly turned it around and outscored the Panthers 69-34 in the second and third quarters combined.
Early in the first quarter, the Lady Saints would take an 8-7 advantage over the Panthers. Neosho would respond by going on a 13-4 run to take a 20-12 lead heading into the second quarter. This would be the Panther's largest lead of the game. In the second quarter, it would be the Lady Saints to respond with a run of their own. After being tied at 26 all, Seward County would put together a 14-0 run to separate themselves from Neosho County. During the run, the Lady Saints would apply a full-court press that would disrupt the Panthers offense and lead to fast-break opportunities that Seward County would capitalize on. This momentum would carry the Lady Saints into halftime with a 48-38 advantage.
The third quarter is where the Lady Saints would truly separate themselves from the Panthers, as Seward County would go on an 18-8 run to give themselves a 66-46 lead over Neosho County. During the quarter the No. 13 Lady Saints would put their defense on display only allowing 16 points and scoring 33 points.
The fourth-quarter would start with both teams shooting early in the shot clock. The fast pace of the game would play to the Lady Saints' advantage, as they looked to push the ball in transition and started to knock down open threes. Gina Ballesteros would start off the quarter with back-to-back threes and a long two to give Seward County a 94-64 lead. Lady Saints continued their offensive attack and would break the century mark for the first time in conference play, and go on to win 107-74.
Lady Saints now sit all alone on top of the Jayhawk West after Hutchinson Community College fell to Cowley 72-70. Seward County is the only team undefeated in the Kansas Jayhawk Community College Conference.
Neosho County Community College was paced by Jessica Jones with 14 points, and 2 rebounds. Other Panthers in double digits were Hayley Stiger with 13, Addy Emmons with 11, and Morgan Bolen with 10 points.
Seward County had six players in double digits and was led by Karolina Szydlowska with 18 points and 9 rebounds. The other Lady Saints in double digits were Destiny Alston with 16, Leilani Augmon with 15, Ballesteros with 13, Ayabba Smith with 11, and Aquila Mucubaquire with 10 points.
Lady Saints are back in action Monday in the Greenhouse to take on Garden City at 6 PM.