Lady Saints Score 15 Second Half Points in Loss at Barton
Brock Kappelmann - February 19, 2023 9:49 am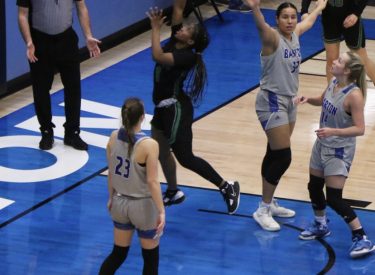 The Seward Lady Saints didn't finish what they started Saturday afternoon at Barton.  Seward led 33-28 at halftime but were out scored in the second half 40-15 in a 68-48 loss to the Barton Lady Cougars.  Barton led by as many as 22.
Barton led Seward 17-14 after one quarter but the Lady Saints out scored Barton 19-11 in the second quarter to lead at the half.  Barton dominated the second half 22-9 in the third quarter and 18-6 in the fourth quarter.
Seward sot just 32 percent from the field while making 6-22 from three point range and 8-12 at the foul line.  Barton shot 42 percent while going 8-17 from three and 12-15 at the foul line.  Barton out rebounded Seward 41-33.  The Lady Cougars led points in the paint 28-10.
D'Arrah Allen scored 14 points and grabbed eight rebounds in the loss.  Halima Salat scored 10.
Seward falls to 14-14 overall and 12-10 in the KJCCC. Barton is 23-4 and 17-4 in the Jayhawk.  Seward hosts Hutchinson for sophomore night on Wednesday night at 6pm with Saints Shoot-around at 5:45 on 107.5.  Sharp McQueen PA is the buyout sponsor.