Lady Saints Saints Blow it Open Against Barton
KSCB News - February 20, 2014 7:13 am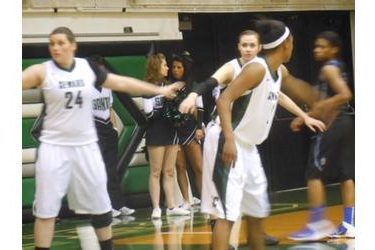 The Seward Lady Saints defended well in two halves and executed well offensively in one half of a 69-42 win over Barton in the Green House Wednesday. It's Seward's second straight season sweep over the tradition rich Lady Cougars.
Seward's defense was the story holding Barton to under 23 percent shooting. The Lady Saints sputtered offensively in the first half leading just 25-19 at halftime before out scoring Barton 44-23 in the second half. Seward shot 40 percent for the game and 48 percent in the second half. Seward dominated the boards out rebounding the Lady Cougars 60-38 and pulling down 25 offensive rebounds.
Brianna Scott scored 14 to lead Seward. The freshman from Hereford, Texas added five rebounds, five assists, and five steals. Alana Simon added 12 points while Shanise Brooks had 11 points and 11 rebounds and Korina Chapman added 11 points and seven rebounds. Seward has won nine of the past 12 against Barton.
The #16 Lady Saints are 24-4 overall and 9-3 in the Jayhawk West. Barton is 18-10 and 6-6 in the Jayhawk West. Seward plays at Cloud Saturday at 6 on B107.5 and kscbnews.net.
The Lady Saints will be featured during Thursday night's Green Line show at 6 at Billy's on 1270 and kscbnews.net.
#6 Butler def Labette 92-61*
#24 Cowley def Tabor JV 83-76**
Coffeyville def Independence 63-59*
Dodge City def Colby 70-56*
#16 Seward County def Barton 69-42*
Pratt def Garden City 72-49*
#3 Hutchinson def Cloud County 73-61*
Neosho County def Allen 74-65*