Lady Saints Roll to Conference Opening Win
Brock Kappelmann - November 18, 2021 5:25 pm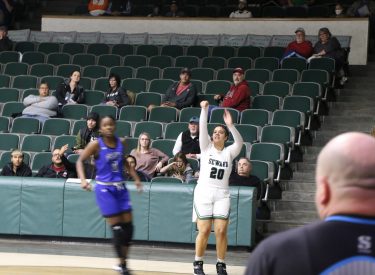 LIBERAL, Kan. – Seward County Community College defeats Pratt Community College 89-56 for their home and conference opener on Wednesday night. The Lady Saints jumped out to an early 11-0 lead in the first quarter and kept the lead for the remainder of the game. Seward County will face No. 13 Butler Community College this Saturday, November 20th in El Dorado, Kansas at 2 PM.
In the first quarter, Seward County came out to an 11-0 run as their defensive pressure forced Pratt into turnovers that turned into lay-ups for the Lady Saints. Sierra Lynch closed out the first quarter with a put-back lay-up to cap off a 9-3 run. The Lady Saints ended the first quarter with a 24-8 lead.
To start the second quarter Seward County went on an 18-0 run to take a 42-8 lead with 4:45 left in the quarter. The Beavers closed out the quarter on a 15-7 run as the Lady Saints went into halftime with a 49-23 advantage.
The Lady Saints continued to separate themselves in the third quarter as they took a 70-30 lead with 4:40 left in the quarter. Seward County had their largest lead of the game with a 76-32 lead but Pratt went on an 8-4 run to close out the quarter as Seward led 80-40 at the end of the third quarter.
Seward County's offense had a tough time getting started in the fourth quarter but had an 84-47 lead with 4:21 left. The Lady Saints scored their final basket at the 1:44 mark left in the game as D'Arrah Allen connected on a floater in the lane to give Seward County a 89-53 advantage. The Lady Saints went on to win with the final score of 89-56 to start 1-0  in conference play.
Seward County will face the No. 13 Grizzlies in El Dorado, Kansas on Saturday in the Power Plant Arena.