Lady Saints Roll Past Fort Carson
KSCB News - December 6, 2014 7:48 am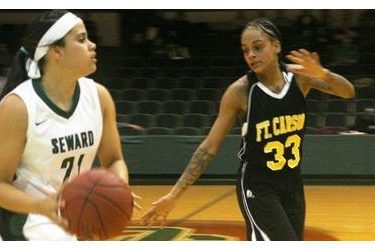 It wasn't always the prettiest performance, but in the end, it was a 32 point win for the #8 Seward County Lady Saints Friday night in the Greenhouse as they dismantled Fort Carson 75-43 to remain perfect on the season.
Seward came out slinging and threes from Rebekah Hatchard and Brianna Scott quickly put the Lady Saints on top 6-0. With Seward ahead 9-5 later on, the veteran Lady Lions made a push, going on an 8-0 run to take their first lead of the game at 13-9. The Lady Saints struggled turning the ball over early and missed a number of easy shots on the inside, but once they got it going, it looked like their game to have. Seward went on a 17-5 run over the next six minutes, building their lead up to eight with 7:20 to go in the half and then to 10 moments later on a pair of free throws from Tamara Seda. However, Seward went cold once again before the half and the Lady Saints went to the locker room with just a six point lead 36-30. The first half numbers were almost even as both teams shot 33% from the field and split the turnovers 14-13. Seda led the Lady Saints with 10 first half points while 2002 college graduate Angela Goodman scored 12 for Fort Carson.
Despite the slow finish to the first half, the Lady Saints quickly regained momentum as the second half got underway. Seward scored the first 11 points of the half to blow the game open to 47-30 and extended their lead to 22 at the 11:14 mark on a Daniela Galindo to Seda hookup. Seward continued to push, finishing the game on a 10-0 run and in the end it was all green and white in this one as the Lady Saints came away with a 75-43 win to remain unbeaten on the season.
Seward held Fort Carson to just 4 second half field goals in the win and kept the Lady Lions in check to the tune of a 25% shooting percentage in the game. The Lady Saints shot just 37% in the win however and struggled from the three point line, going just 8 for 30. Against a much smaller Fort Carson front line, Seda had her way, scoring a game high 16 and also pulling down 8 rebounds in the win. Galindo stayed hot with three more three point makes, giving her 11 in Seward's last three games, while Hatchard and Brooklyn Artis both cracked double digits with 10 for the Lady Saints.
Seward improves to 10-0 on the year and will take on Northwest Kansas Tech Saturday night at 6:00 on Hispanic Heritage Night in the Greenhouse. The Lady Saints will don 'Los Santos' jerseys and the Greenhouse will have a Spanish announcer, Mexican dancers, and much more centered around the Hispanic Culture.
#8 SEWARD COUNTY/FORT CARSON BOX SCORE <http://www.sewardsaints.com/sports/mbkb/2014-15/files/Womens_14-15_SCCC_v._Fort_Carson.html>
Roy Allen