Lady Saints Recognized with AVCA Team Academic Award
Joe Denoyer - July 16, 2018 11:29 am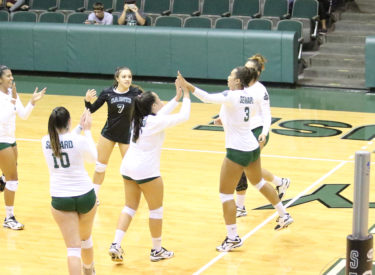 The Seward County Athletic Department continues to display the importance of academics as the Lady Saints volleyball team has earned the American Volleyball Coaches Association (AVCA) Team Academic Award. The Lady Saints were one of only 26 two-year colleges to earn this award. It marks the 11th time in the past 12 seasons that Seward County has earned the award.
"I am extremely proud of our players for receiving the AVCA Team Academic Award and continue the strong academic tradition we have at Seward County," said head coach Thais Baziquetto-Allen. "They have put countless hours into their academics and it is great to be recognized among the top academic teams in the country."
The Lady Saints are coming off a 33-2 season that saw records fall as they climbed up to a program record No. 3 ranking in the country.  Following the season, six Lady Saints were named All-Conference, while Giovanna Kuntze was named Jayhawk West Most Valuable Player and the first 1st Team NJCAA All-American setter in program history.  Five Lady Saints also landed on the NJCAA Academic Student Athlete Award list.
The award, which was initiated in the 1992-93 academic year, honors collegiate and high school volleyball teams that displayed excellence in the classroom during the school year by maintaining at least a 3.30 cumulative team grade-point average on a 4.0 scale or a 4.10 cumulative team GPA on a 5.0 scale.