Lady Saints Reach Century Mark in Win at Northwest Tech
Brock Kappelmann - December 13, 2021 11:53 pm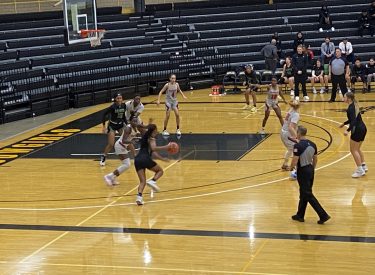 The Seward Lady Saints closed out the first semester with a 101-75 win over Northwest Tech Monday night in Goodland.  It's the most points the Lady Saints have scored this season.
Seward led early 14-6.  The Lady Saints led 22-20 after the first quarter.  The Lady Mavericks led 24-22 early in the second quarter before SCCC used a 15-0 run to lead 37-24 with 4:19 remaining in the first half.  Seward led 47-33 at the half.  SCCC led 77-58 after three.  The led by as many as 27.
Sydney Wetlaufer looked like the sharp shooter of 2021 with a 24 point eight rebound game.  She was 9-15 from the field and 4-8 from three point range.  Hulda Joaquim had 16 points and 10 rebounds.  Zhane Thompson had 16.  Halima Salat scored 15.
Seward forced 33 turnovers and won despite the Lady Mavericks going 24-31 from the foul line while SCCC was 12-17.
Seward is 6-3 in the Jayhawk and 8-5 overall while Northwest Tech is 0-8 in the Jayhawk and 2-10 overall.  Seward plays in Lake Charles, Louisiana December 31 against Odessa and January 1 against South Plains.