Lady Saints Rally Past Cowley
Brock Kappelmann - January 31, 2021 7:39 am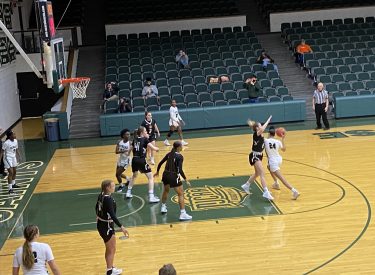 The Seward Lady Saints shot their way past the Cowley Lady Tigers Saturday afternoon in the Green House.  That is how they won.  Seward shot 48 percent from the field and won despite laboring defensively much of the day.  Seward made 18 three pointers in the 93-81 win in the home opener in the Green House.
Cowley led the Lady Saints 24-19 after one quarter and led 49-40 before taking a 49-43 lead into the halftime locker room.  A three pointer by Zhane Thompson tied the game at 53.  Cowley took a narrow 62-61 lead after three quarters.  Seward's depth seemed to wear down Cowley in the fourth quarter.  Despite trailing 71-66 with 7:21 to play, Seward would rally and take a 74-72 lead and never trail again.  So the 'Gals in Green' finished on a 27-10 run and out scored the Lady Tigers 32-19 in the fourth quarter.
The Lady Saints made 18-39 three pointers.  Seward was only 3-4 at the foul line and Cowley was 7-17.  Sydney Wetlaufer scored 21 with 5-9 shooting from three point range.  Zhane Thompson had 19.  Sierra Morrow scored 17.
Seward wins their eighth straight against Cowley and improves to 2-0 and Cowley is 0-2 in the Jayhawk and 2-2 overall.  Seward plays at Coffeyville Saturday at 2 with Saints Shoot-around at 1:45 on B107.5 and kscbnews.net.