Lady Saints Rain 3's in Goodland
Brock Kappelmann - January 31, 2019 7:00 am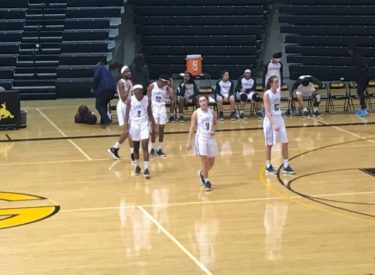 GOODLAND, Kan. – The No. 8 Seward County women's basketball team won their 14th straight game behind a flurry of three pointers, defeating the Northwest Tech Mavericks 93-77. The win pushed the Lady Saints to 20 wins for the 27th consecutive year, dating back to 1992.
The Lady Saints came out firing against the Mavericks, jumping out to a 14-2 lead with nine points coming from behind the arc. The lead stayed in double figures for the rest of the quarter as the Lady Saints had an answer for each Northwest basket, leading the Mavericks 24-11 after one quarter.
After Karolina Szydlowska hit a three to start the quarter, the Mavericks went on an 8-1 run to cut the lead to single digits for the first time since the opening minutes of the game. A game of runs began in the second quarter as Seward's lead quickly ballooned to 16 points following a 7-0 run by the Lady Saints to push the lead to 39-23, but another run by the Mavericks made it a single digit game once again. A run to end the quarter gave Seward a 51-38 lead as they headed into halftime.
The Lady Saints struggled to start the third quarter, as the Mavericks scored the first seven points of the quarter, cutting the lead to eight points. Silvia Veloso ended the run with a deep three from the left wing before Lexi Hernandez hit a three on the following possession to make it 59-45. Back-to-back threes by Hernandez and Szydlowska a few minutes later pushed the Seward lead to twenty points. Hernandez hit her seventh three of the game just before the end of the quarter to keep the lead at 20, as the Lady Saints took a 76-56 lead into the final quarter.
Kalen Green connected on two threes to start the fourth quarter, pushing the Seward lead to 24 and forcing a Northwest Tech timeout. The Mavericks made a short run at the end of the game, but the Lady Saints held on to win 93-77.
Seward shot 63 percent from the field and an unbelievable 79 percent (15-for-19) from behind the arc. The Mavericks shot 39 percent from the floor 35 percent (9-for-26) from deep.
Lexi Hernandez finished with 26 points on 7-of-9 shooting behind the arc. The seven threes is the fourth most in a single-game by a Lady Saint, tying eight others to accomplish the feat. Vonda Cuamba finished with a career-high 17 points. Carla Covane, Silvia Veloso and Karolina Szydlowska each finished with 12 points.
Seward will travel to Hutchinson on Saturday (Feb. 2) for a first place battle in the Jayhawk West with the Blue Dragons. The game will tip at 5:30 p.m. and can be heard on 107.5 FM with Brock Kappelmann on the call.